Clear EXIT Exam if you want the Doctor Tag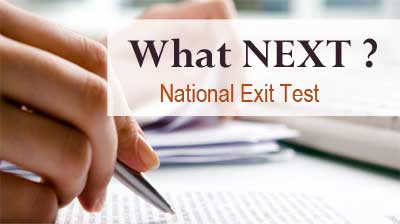 Medical Students to get the doctor tag only after clearing NATIONAL EXIT TEST- NEXT
New Delhi: With the Union Ministry unveiling the draft Indian Medical Council(Amendment) Bill 2016 on Thursday, a National Exit Test (NEXT) for medical students is expected to soon become a reality.
The test would not only provide an exit point for MBBS courses, but proposal is going further to link it with the entry level of the PG medical education.
It is also proposed that the test would replace FMGE exam as well as for CHS recruitment.
"It will substitute three tests, including NEET for postgraduate admissions, recruitment for central health services and the foreign graduate medical examination," an official has confirmed to TOI, adding it will be an outcome-based test. "The results of how students from individual colleges have performed in NEXT will be made public. If a college has over 90% students clearing the test, it will automatically act as an indicator. Students can make an informed choice while selecting colleges," said the official.
Read Also : 
Foreign Doctors may soon be allowed to practice in India
The policy which comes along with allowing of corporates to set up private medical colleges, is expected to provide a level playing field and a strong degree of standardization in the field of medical education. The proposed  policy is similar to the exams that are conducted in the US and UK
Speaking to the daily, Dr P Shingare,  director DMER, Maharashtra welcomed the move."How can we equate a student from X university with one from Y University? NEXT will bring about standardisation," he said. Since the MCI inspections focus more on the infrastructure of medical colleges, the exam will act as a parameter for governing the quality of education at the respective colleges.
Read Also : 
Niti Ayog decides National Exit Exam for MBBS, asks for comments