Congress accuses government of healthcare mismanagement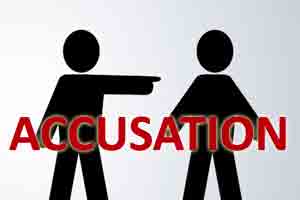 The Goa Pradesh Congress Committee has blamed both the Laxmikant Parsekar government as well as the deputy Chief Minister, Francis D Souza, who also handles the Health portfolio of the state, for mismanaging the healthcare infrastructure.
As reported by  TOI, the congress party is alleging that the BJP government was making money at the cost of people's lives. The state's Health Minister, Mr. D'Souza in  counteraction  called it election propaganda  on the part of the Congress. Congress MLA's Vishwajit Rane and Aleixo Reginaldo Lourenco, while addressing the press said that patients approaching the government medical college cum hospital were likely to loose their lives due to inferior quality treatment.
Talking about poor infrastructural facilities at the government hospital, the ministers spoke of deficient manpower in terms of doctors, lack of medical equipment, shortage of coronary angioplasty stents and diagnostic tools .
"God forbid, if you go to GMC, you will not survive. The government is playing with the lives of the people," said junior Rane, who was earlier the health minister.
Rane also claimed that  Health Minister, D'souza had other preoccupations like making money out of the Regional plan 2021, Land Use Classification, instead of improving the state of healthcare in the region.
"This minister's eyes are on RP2021 and he only wants to see what colors to paint on it. The ambulance service was a life saving initiative, but it has been destroyed by this government," he  added. He also claimed that manpower hired for the ambulances had been fired and the vehicles were falling apart due to lack of funds. In a rejoinder to  this allegation D'souza responded by saying, that the vehicles mentioned by the minister had been put off the road and 20 new replacements put into service. 20 more had been ordered by the government according to him.
Elaborating on mishandling of health affairs Lourenco spoke of the delay on the part of the government in the completion of the South Goa district hospital and framing of a new medical insurance scheme. He spoke about the contractors of the South Goa District Hospital still waiting for their payments and how it was becoming difficult for the hospital to withstand the pressures.
Talking about departmental appointments the minister's brought up the Chief Cardiologist Dr. Guruprasad Naik's name saying that due to his proximity with the BJP leaders he was continuing to hold the Head, Cardiology, post despite not meeting the MCI's qualifying mark for it. Mr. D'souza reacted sharply to the allegation by inviting the two congress leaders to the parliament for an answer to this query. He also informed the newspaper that the Goa District Hospital would resume operation by December, 2016.