Construction of AIIMS in HP likely to start by next month: Nadda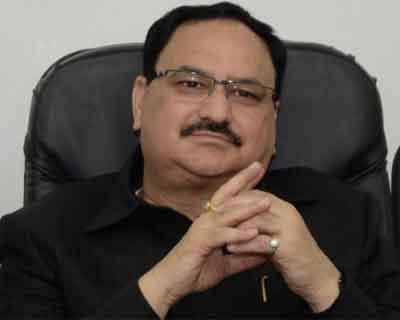 Union Health and Family Welfare Minister Jagat Prakash Nadda on Tuesday announced that construction work of the first state-of-the-art health institution AIIMS in Himachal Pradesh would be unrolled by next month, as Prime Minister Narendra Modi laid the foundation stone of the institute last year.
Highlighting the major achievements of four years of BJP-led NDA government at the Centre, Mr. Nadda accepted that fuel prices, including of diesel and petrol, was a grey area concern for the formation of a long-term strategy, to keep the escalation within control.
He hoped that effective mechanisms would be chalked out to check the frequent hike in fuel prices by this government, as it had promised.
The construction work of fencing wall of AIIMS was likely to come up in Bilaspur, the home district of Mr. Nadda, by next month. He said the designing and drawing of the institution, including a detail project report would be available by the end of this November.
Interacting with media persons at the state guest house Peterhoff here on Tuesday morning, Mr. Nadda informed that state AIIMS would be fully ready for commissioning after 48 months.
Giving details of Modi government, the Union Minister said as many as 31.52 crore bank accounts had been opened in the last four years, compared to only 1.25 crore in Congress rule, since the nationalization of banks till 2014.
The Minister claimed that World Bank Index report highlighted that India has opened 55 percent new bank accounts in last four years, which was the highest record set by any nation.
Mr. Nadda said 13.25 crore Prime Minister Security Insurance and 5.22 crore PM Jiwan Joyoti Insurance were registered to provide financial security to the households. During the last four years, 7.25 crore public toilets were built in the country, which increased the sanitation cover by up to 83.71 percent from 38.7 percent in 2014, he noted. To do away the middleman in transactions, the Union government launched the Direct Benefit Transfer scheme, Mr. Nadda said. Listing the priorities of Modi government, the Union Minister said the government was working hard to double the farmer income after opening 585 new market yards. Besides, investment of 50,000 crores was done to bring more area under the irrigation.
He claimed that under the Modi regime, the economic condition was sound as India registered about 31 percent increase in the Gross Domestic Product, against four percent on the global level.
Mr. Nadda was accompanied by Union Minister for Health Thawar Chand Ghelot, party state president Satpal Singh Sati and Chief Minister Jai Ram Thakur.