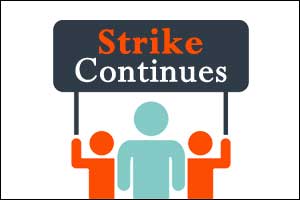 Jaipur:  Medical services in Rajasthan remained crippled as the strike by government service doctors continued, as talks between the state government and medical community failed to reach a favorable conclusion
The government had invited core committee members of the All Rajasthan State In-Service Doctors Association for talks. While the talks continued till late night yesterday, Health Minister Kalicharan Saraf told India Today that talks have failed because doctors have been adamant about immediately implementing their demands which have financial repercussion but this was not within his jurisdiction. The representatives of the medical community, however, blamed the government which had not done anything to meet their demands despite their notice of strike given 100 days ago.
Medical dialogues team had earlier reported that Government doctors submitted their enmasse resignations in support of their demands including better pay and separate cadre. Moreover doctors from the Army and the Railways were deployed to handle the situation, state as the medical services were affected in Rajasthan
Petition filed against Doctor
Hindustan Times reports that a contempt petition was filed in the Rajasthan high court on Tuesday seeking termination of services of doctors and suspension of their degrees for illegally going on strike and putting lives at risk.
"We have 2,900 PHCs and 4,500 CHCs which cater to a large number of people. But by going on strike for their demands they are ignoring public interest. Despite initiating RESMA, the state government did not terminate them or suspend their degrees," Dr Abhinav Sharma, the petitioner.
The petition action also sought specific action against doctrs Ajay Choudhary and Durgashanker Saini for instigating the doctors to go on strike and against Veena Gupta, the health secretary who, the petitioner alleged failed to take disciplinary action or action under Rajasthan the Essential Services Maintenance Act (RESMA) 1970 against the striking doctors . Next Hearing is on the 9th November, 2017
It is reported that the petitioner also approached the Human rights Commission which issued a notice to the government and doctors' association
2 comment(s) on Contempt Petition in HC seeking termination, license cancellation of Doctors on strike