Contraceptive pills, Vitamin A, ORS packs not available in 24 states: CAG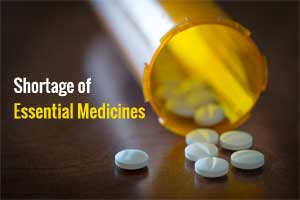 New Delhi: Essential drugs for patients were not available in 24 states and medicines were issued without prescribed quality checks or observing their expiry dates, exposing patients to health risks, the country's audit watchdog CAG has found.
The Report of the Comptroller and Auditor General (CAG) of India on 'Performance Audit of the Reproductive and Child Health under National Rural Health Mission' which was tabled in Parliament on Friday also found shortage of doctors and paramedical staff in almost all selected facilities.
The performance audit covered the period from 2011-12 to 2015-16.

As per the report, instances of non-availability of essential drugs were observed in 24 states, including Assam, Bihar, Chhattisgarh, Gujarat, Haryana, Karnataka, Madhya Pradesh, Maharashtra, Rajasthan, Sikkim, Tamil Nadu, Telangana, Tripura and Uttar Pradesh.
In eight states, essential medicines and consumables such as Vitamin A, contraceptive pills, ORS packets, RTI/STI drugs, essential obstetric kits etc were not available in selected health facilities.
Non-maintenance of administration records of antenatal checkups (ANCs) of pregnant women was noticed in 20 out of 28 states.
"Shortfalls in administration of iron and folic acid tablets were noticed in all the 28 states.
"Similarly, in four states (Arunachal Pradesh, Jammu and Kashmir, Manipur and Meghalaya), less than 50 per cent of pregnant women were immunised with both doses of Tetanus Toxoid vaccine (TT1 and TT2)," the report said.
The CAG report further said that against the target of Infant Mortality Rate (27 per 1,000 live births) to be achieved by 2015 as per the Millenium Development Goals, the achievement was 39.
"IMR was higher than 40 in the six states of Assam (49), Bihar (42), Chhattisgarh (43), Madhya Pradesh (52). Odisha (49) and Uttar Pradesh (48)," it said.
Besides, against the target of Maternal Mortality Ratio (109 per 1,00,000 live births) to be achieved by 2015 as per the Millenium Development Goals, the achievement was 167.
"MMR was higher than 200 in the nine states of Assam (300), Bihar (208), Chhattisgarh (221), Jharkhand (208), Madhya Pradesh (221), Odisha (222), Rajasthan (244), Uttar Pradesh (285) and Uttarakhand (285)," it said.
Deficiencies were noticed in the implementation of Janani Suraksha Yojana, such as non-payment of incentives to beneficiaries, delayed payment to beneficiaries, payment to 12,723 excess number of beneficiaries among others.
The report further stated that in 17 states, including Chhattisgarh, Gujarat, Haryana, Karnataka, Rajasthan, Tamil Nadu, Uttarakhand and West Bengal, 428 equipment (ultrasound, X-ray, ECG, cardiac monitors, blood storage units) costing Rs 30.39 crore were lying unutilised due to non-availability of doctors and trained manpower to operate them and lack of adequate space for their installation.
"Shortage of doctors and paramedical staff was observed in almost all selected facilities, compromising the quality of healthcare being administered to the intended beneficiaries," the report stated.
In the selected CHCs of 27 states, the average shortfall of five types of specialists (general surgeon, general physician, obstetrician/gynaecologist, paediatrician and anaesthetist) ranged between 77 to 87 per cent.
The report further highlighted that 67 primary health centres were functioning without any doctor in 13 states.
Mobile medical units were not operational in four states of Chhattisgarh, Himachal Pradesh, Mizoram and Uttar Pradesh while these were partially operational in 10 states including Gujarat, Haryana, Kerala, Madhya Pradesh and Maharashtra.
Around 3,588 accredited social health activists (ASHAs) surveyed did not have disposable delivery kits and blood pressure monitors, the report said.
The report pointed out that financial management at both central and state levels was not satisfactory with substantial amounts persistently remaining unspent with the state health societies at the end of each year.
In 27 states, the unspent amount increased from Rs 7,375 crore in 2011-12 to Rs 9,509 crore in 2015-16.
Funds amounting to Rs 5,037.08 crore and Rs 4,016.37 crore released in 2014-15 and 2015-16 to the state treasuries were transferred to state health societies with delays ranging from 50 to 271 days while in six states (Andhra Pradesh, Gujarat, Jammu and Kashmir, Rajasthan, Telangana and Tripura), Rs 36.31 crore was diverted to other schemes.
The shortfall in the availability of sub-centres (SCs), primary health centres (PHCs) and community health centres (CHCs) in the 28 states and UT, ranged between 24 and 38 per cent.
The shortfall was more than 50 per cent in five states (Bihar, Jharkhand, Sikkim, Uttarakhand and West Bengal).
Survey of 1,443 SCs, 514 PHCs, 300 CHCs and 134 district hospitals (DHs) countrywide revealed that some of these were functioning in unhygienic environment or were inaccessible by public transport.