Controversy after Haryana Health Minister orders Arrest of SDO, Health without hearing him out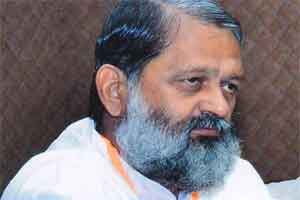 Kaithal: Haryana Health Minister Anil Vij ordered the arrest of a "corrupt" SDO at a meeting in Kaithal even as the official pleaded for a chance to present his own case, according to a dramatic video clip circulating on social media.
"Arrest him,' Vij is heard telling policemen in the video, believed to be of the district grievance redressal committee's monthly meeting chaired by the minister on Friday.
The minister wanted the Public Health Engineering Department's sub divisional officer Ved Pal arrested over a graft complaint made by a contractor, Digvijay Singh of Kakheri village.
However, the local police had not carried out the arrest "order" until last evening.
The minister repeatedly refused to hear out the SDO even when Superintending Engineer A.K. Pahwa supported the junior officer, who is posted in Guhla.
Vij said if the complaint was proved false, the SDO can file a case against the complainant under section 182 of the Indian Penal Code, that punishes giving false information to a government official.
Pahwa suggested that an first information report should be registered only after an inquiry into the complaint.
Employees' unions demand apology from Health minister for misbehaving with SDO
The District Diploma Holders Association and representatives of Haryana Sarv Karamchari Sangh (SKS) and Haryana Karamchari Mahasangh (HKM) on Saturday strongly condemned alleged misbehavior by Health Minister Anil Vij with SDO, public health, Ved Pal on Friday.
The unions demanded an unconditional apology by the Minister for his misbehavior and withdrawal of his directions for registration of a case against the SDO and threatened that if the Minister did not take his orders back they will start an indefinite agitation on the Mini Secretariat in Kaithal from Monday.
They also threatened that if their demands are not met they may be forced to give a state-level call for strike against the alleged dictatorial attitude of the Minister who even did not allow the SDO to explain his position.