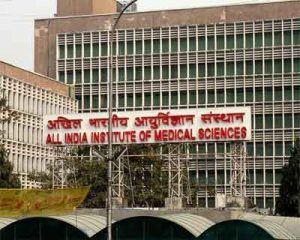 New Delhi: With AIIMS gastroenterology former head of the department, Prof S.K. Acharya, retiring on Monday, the authority has decided to bring in a senior professor from community medicine unit on the post of HOD.
The decision however has not gone well with the medical community of the premier government medical institution. The gastroenterologists working in the department have created a strong opposition against the move, while asking for intervention from the Central Appellate Tribunal (CAT).
In its response, a division of a bench of the tribunal has issued a notice to AIIMS as well as the Ministry of Health and Family Welfare, with an aim to know the reason behind this decision.
................................ Advertisement ................................
It has been said by the doctors working in the hospital that the decision to bring in a doctor from another department as an HOD of a different subject will discontinue the years-long practice in the institution of bringing in the senior most doctor serving same department on the place of HOD, after the present HOD retires.
As per the notifications of AIIMS' faculty cell, both gastromedicine and Community Medicine are two parts on different shores, where gastroenterology needs three years of post-graduate study in Internal Medicine and an additional three years of super-specialty study in Gastromedicine. Community medicine needs qualifying for a teaching post in Human Nutrition Unit involves pursuing three years of PG in Preventive and Social Medicine, General Medicine, Paediatrics after MBBS or a PhD in human nutrition.
................................ Advertisement ................................
As per DNA reports, Dr Anoop Saraya, Professor, Department of Gastroenterology and Human Nutrition Unit, AIIMS said, "Gastroenterology and community medicine are two fields as different as chalk and cheese. How will a doctor who specialises in PSM understand the nitty-gritties of gastro? As an HoD one has to design teaching curriculum for students, one has to see patients suffering from gastric problems including life threatening ones like liver cirrhosis etc. How is this move of appointing a doctor from another specialty in gastro department as a head justifiable."
23 comment(s) on Controversy brews over appointment of AIIMS Gastroenterology HOD