Corruption in Recognition of Nursing Colleges: Indian Nursing Council President framed for corruption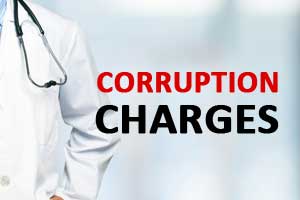 New Delhi: In an unprecedented decision taken by the Patiala House District Court, New Delhi corruption charges have been framed against the sitting president of Indian Nursing Council (INC) for conducting unethical practices of conspiring with six nursing colleges to grant them recognition or feasibility certificates, by resorting to cheating and forging documents
According to the findings of the district court, the sitting President, T Dilip Kumar and now-deceased Vice-President of the
Indian Nursing Council
KD Varyani had unethically replaced the evaluation proformas of the
ad hoc
inspection committee. The findings of the ad hoc inspectors pointed out shortcomings and deficiencies at the institutes including faculty shortage. However, in the replaced evaluation proformas, the training institutes were shown eligible for recognition or more seats.
The observations of the inspectors were allegedly removed from the files and asked to be destroyed by Kumar and Varyani. However, the council's staff turned in these controversial documents to the Central Bureau of Investigation.
The six colleges  in relation to which the conspiracy took place include :


College of Nursing, Indraprastha Apollo Hospital, New Delhi


Shahid Udham Singh School of Nursing, Ratia, Haryana


Priyadarshini School of Nursing, Bengaluru


National School of Nursing, Bengaluru


Asram College of Nursing, Andhra Pradesh


Baba Farid Medical Institute for Nursing, Punjab


Hindu reports that In the records of College of Nursing, Indraprastha Apollo Hospital, Sarita Vihar, the
ad hoc
inspector had pointed out the shortage of faculty but the replaced proforma showed the presence of adequate faculty.
At the Priyadarshini School of Nursing, Bengaluru, the inspection team observed that the girls' hostel was unsafe, and also mentioned that the faculty was inadequate and inexperienced.
The investigation forensically confirmed that the indentations and torn pieces in the file record proved that the pages were removed adding to the evidence of the conspiracy. The signatures of officials on the file were verified through question-document analysis.
The CBI filed its charge-sheet in 2009, but for nine years, the court did not frame charges against the seven accused in the act.
The daily adds that for eight years, the sanction for prosecution of Kumar was not received and it was only in 2017 that the Ministry of Health and Family Welfare and the President's office gave the go-ahead to try him.
In 2016, the Maharashtra Nursing Council had written to the Prime Minister's office asking for removal of all accused INC office-bearers, alleging that they were involved in a fraud exceeding Rs 225 crore, reports the
Hindu Business line
.