Cotton Mop left in Abdomen: Gujarat Doctor arrested for negligence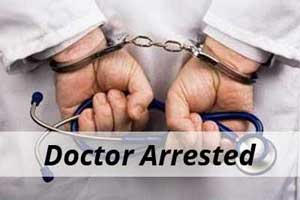 Vadodara: A doctor running a maternity clinic in Lunawada has recently been arrested under clauses IPC 304  in a medical negligence case whereby a cotton mop was left behind in her abdomen, during a surgery conducted by the doctor. The woman soon died after developing complications
The incident took place seven months ago on 9th January 2019, and relates to a 33-year old pregnant woman (since deceased) who was referred to Aarohi Maternity Home for delivery.
At the hospital, she underwent a caesarean operation and gave birth to a baby boy. A couple of days after the delivery she started complaining of acute pain in her stomach and started to vomit. Further things got complicated when her belly started to swell. She was rushed to SSG Hospital in Vadodara on account of her deteriorating condition.
An operation was conducted in the SSG Hospital and a cotton mop sized 20cmX25cm was extracted from her abdomen. Despite removing the cotton mop, the woman's condition remained critical. She was put on a ventilator. After three days she passed away.
Also Read: Doctor, son arrested after woman dies due to alleged negligence
The deceased's family filed a legal case against the hospital administration stating that the women died at the SSG Hospital due to complications arising out of the operation.
However, the post-mortem revealed that a cotton mop was left in her abdomen due to which she suffered from abdomen infections that subsequently resulted in her death.
The same was confirmed by the Forensic Science Laboratory (FSL) in its report. Based on the report the doctor has now been arrested by a team of Mahisagar Police under Indian Penal Code, Section 304 (Culpable homicide not amounting to murder).
"We sent the post-mortem report to the FSL after which the report came, recently. It mentioned that the woman suffered from abdomen infections due to a cotton mop left behind in her stomach. We have arrested the doctor now," a police officer in Mahisagar told The Indian Express.