Country in severe need of Bone Donors: AIIMS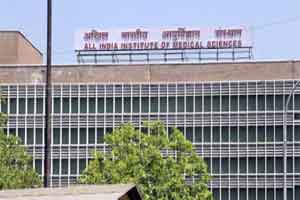 New Delhi:  There is an acute shortage of bone donation in the country, despite an increase in the organ donation over the past few years.
Dr Rajesh Malhotra, Professor and the Head of orthopaedics at All India Institute of Medical Sciences (AIIMS) said there was a lack of awareness among people about the bone donation, and most families feel hesitant in donating the bones of their deceased members because of religious taboos etc.
There have been only 26 cadaver donations at the AIIMS since its inception.
All India Institute of Medical Science's "Bone Bank" is the one of its kind medical facility in the country that provides bone transplant to the patients in the need.
It was established in 1999 with the funding from the government. "AIIMS is in a severe need of bone donors.
A single Bone Donation can save up to the life of at least 20 people, we have already helped 300 plus patients, A bone donation is not a life-saving but a life-enhancing act for the people who need it.
We want to make people understand that you can still help people even in death by donating bones, we just want to send the message to people that their kindness and gratitude may help somebody to live a better and much healthier life," Dr. Malhotra said in a public lecture this week.
There are three types of people who can donate their bones- the Dead, the Brain-dead and the living from the age of 15- 60.
People with any bone related diseases that may contaminate the bones are excluded from the list.
The bones are taken from the lower part of the body usually- hip, pelvis, knee and thigh.
Artificial bone transplant is much more expensive and less safe than an organic bone transplant; it may not even provide full comfort and satisfaction to the patient that an organic bone transplant can.
They take utmost care in the procedure.
After extraction, the bones are kept in the minus 80 degree temperature and also sterilized with X-rays.