................................ Advertisement ................................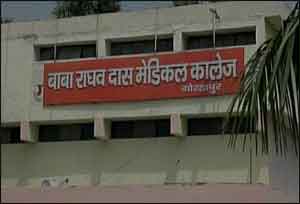 LUCKNOW: Acting strong on the unfortunate incident that took place at BRD Medical College and Hospital, the Yogi Adityanath's government has directed to file criminal cases against the principal of the BRD Hospital and five others on the matter. The decision came after a high-powered committee headed by Chief Secretary Rajiv Kumar submitted its probe report before the chief minister earlier in the day.
The state government also removed Additional Chief Secretary (Medical Health) Anita Bhatnagar Jain from her charge. The probe report pinned the blame on six officials, including Ms Jain, for the tragedy at the BRD Medical College Hospital in Gorakhpur. IANS reports that the high-powered committee found the senior IAS officer guilty of delay in non-payment to the oxygen vendor, who allegedly disrupted supplies, causing problems at the ICU and the pediatrics ward at the hospital.
The probe committee has also recommended action against many officials of the BRD Medical College, including its suspended principal Dr Rajeev Mishra, his wife Dr Poornima Shukla, Dr Satish, Dr Kafeel Khan and two others.
The committee has recommended that criminal cases on culpable homicide and dereliction of duty be registered against these hospital officials found guilty of negligence. Action is also likely to be taken against Pushpa Sales, the private company that allegedly discontinued oxygen supply to the Gorakhpur official over non-payment of dues amounting to around Rs 67 lakh. "Criminal cases are being registered against six persons and entities, including Pushpa Sales," said a senior officer.
Medical Dialogues team had earlier reported that to ascertain the primary reasons behind the Gorakhpur tragedy at Baba Raghav Das Medical College hospital, the Indian Medical Association (IMA) had sent a three member team, to investigate the issue.
................................ Advertisement ................................
Read also: IMA sends own 3 member team to probe Gorakhpur hospital tragedy
The said three-member team charged the administration with negligence, saying no alert was issued regarding the shortage of oxygen.
"Although there is no evidence of medical clinical negligence against Rajiv Mishra and Kafeel Khan, prima facie it appears that a case of administrative negligence against them cannot be ruled out. Hence, administrative inquiry and action may be taken against them," it said in its report.
Read also: Gorakhpur: IMA probe finds administrative negligence
Among those held responsible for the tragedy in the district magistrate's report were three staff members of the accounts department, who had allegedly failed to process the payment of bills on time, and Dr Kafeel Khan, the official in charge of the encephalitis ward.
Studied at Indraprastha College for Women (Delhi University), completed in year 2014. Currently working with Medical Dialogues, a online Medical news paper dedicated for healthcare Professionals.
................................ Advertisement ................................
0 comment(s) on Criminal cases to be filed against doctors in Gorakhpur Tragedy