ICU Delirium risk high in Covid 19 patients, modify risk factors to manage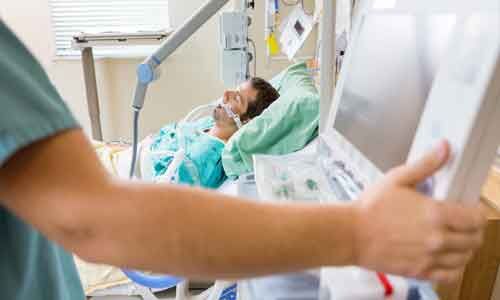 Delirium in intensive care unit is a common phenomenon but in the context of COVID-19 delirium can mean an early sign of infection, so that patients may be screened and monitored using dedicated psychometric tools.
Delirium, a dangerous untoward prognostic development, serves as a barometer of systemic injury in critical illness. The early reports of 25% encephalopathy in Covid 19 patients from China are likely a gross underestimation, which occurs whenever delirium is not monitored with a valid tool.
According to researchers therefore because of increased risk of delirium in Covid 19 patients, a bedside risk management strategy based on modifiable risk factors can help prevent lingering effects on cognition in such patients. The article has been published in the journal Critical Care.
Patients with COVID-19 are at accelerated risk for delirium and several factors can contribute to an increased risk of ICU delirium in COVID-19 patients which are as follows-
(1) direct central nervous system (CNS) invasion, (2) induction of CNS inflammatory mediators, (3) secondary effect of other organ system failure, (4) effect of sedative strategies, (5) prolonged mechanical ventilation time, (6) immobilization, and (7) other needed but unfortunate environmental factors including social isolation and quarantine without family.
In addition the impact of social isolation created by quarantines may also contribute to increased incidence.
The researchers noted several mechanisms by which the COVID-19 virus may cause brain damage, including through the dysfunction of the renin-angiotensin system.
Given early insights into the pathobiology of the virus, as well as the emerging interventions utilized to treat the critically ill patients, delirium prevention and management will prove exceedingly challenging, especially in the intensive care unit (ICU).
The main focus during the COVID-19 pandemic lies within organizational issues, i.e., lack of ventilators, shortage of personal protection equipment, resource allocation, prioritization of limited mechanical ventilation options, and end-of-life care.
However, the standard of care for ICU patients, including delirium management, must remain the highest quality possible with an eye towards long-term survival and minimization of issues related to post-intensive care syndrome (PICS).
The authors have advised implementing easy screening methods for delirium to reduce the burden on medical staff, and emphasized the importance of regular patient orientation, despite social separation from family and caregivers.
"Delirium in mechanically ventilated patients can be reduced dramatically to 50% using a culture of lighter sedation and mobilization via the implementation of the safety bundle called the ABCDEFs promoted by the Society of Critical Care Medicine in their ICU Liberation Collaborative," although COVID-19 isolation is a barrier, they said.
Delirium is so common and so hard to manage in the COVID-19 population, but adherence to the ABCDEF bundle can reduce the incidence of delirium, from approximately 75% of mechanically ventilated patients to 50% or less ,opine researchers.
This article discusses how ICU professionals (e.g., physicians, nurses, physiotherapists, pharmacologists) can use our knowledge and resources to limit the burden of delirium on patients by reducing modifiable risk factors despite the imposed heavy workload and difficult clinical challenges posed by the pandemic.
For further reference log on to:Kotfis K et al. Critical Care. 2020 Apr 28. doi: 10.1186/s13054-020-02882-x.
Source : journal Critical Care