Dalmia Healthcare organises event for spreading awareness about air pollution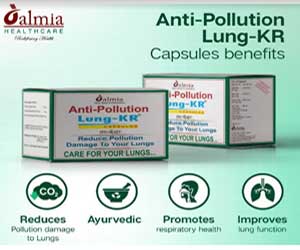 Dalmia Healthcare, housed under the Dalmia Group, recently organised an event, providing a platform to the doctors and healers to spread awareness about protection from the toxic effects caused by pollution. The company aims at helping people lead healthier lives. It offers plant-based formulations (Ayurvedic and herbal) prepared through scientific validation and clinical trials of Dalmia Centre for Research and Development (DCRD).
As a robust attempt to remedy the problem of air pollution, Dalmia Healthcare has come up with an Ayurvedic medicine- Anti-pollution pill. It secures great hope for mitigating all respiratory ailments. The pill helps in soothing the airways that get irritated with pollution, easing chest and respiratory congestion, and reducing pollution damage to the lungs.
The Chairman of Dalmia Group of companies, Mr Sanjay Dalmia shared his philosophy behind coming up with anti-pollution pill. He shared many influential and innovative ideas.
The event witnessed great level participation of well-known doctors and healers. Ayurvedbhushan & Ayurvedacharya Dr Achyut Tripathi from Ministry of Ayush, Govt of India, Dr Parmeshwar Arora, Dr Diksha - Gold Medalist and Dr Gaurav Dixit of Max Superspecility hospital, Dr Ritu Sethi of Holy Family Hospital, Dr SK Gupta- Chairman of NIMA Delhi & president AIMG, Dr Praveen Bhatia, Dr Dinesh Vasishth, Dr Ravindra Gupta- Sr Consultant at Neelkanth Hospital, Dr Prashant Shandilya- President Vishwa Ayurveda Parishad Noida, Dr Ghanshyam Vatsa -MD, GS Ayurveda Medical College, Dr Pyush Juneja were among the eminent speakers in the panel discussions.
They discussed the current situation and challenges relating to pollution toxicity that lead to respiratory diseases, lung-cancer, heart diseases, and even damage to brain, nerves, liver or kidneys through two panel discussions. Mr Dalmia welcomed all the healthcare professionals to join hands for the social and noble cause to help people from the prevailing issue of Pollution.
"This support would help cure thousands of patients suffering from respiratory and heart diseases as an outcome of pollution. It will also strengthen his effort one step ahead," he said.