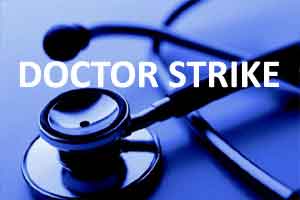 New Delhi: Resident Doctors of Deen Dayal Upadhyaya Hospital have been on strike for the past two days since the assault of three resident doctors by a mob of 30 people at the casualty of the hospital.
The incident goes back to Sunday Night, when a resident doctor was returning back from outside the hospital to the orthopedic emergency after attending to an MLC case. As recounted, the resident doctor was allegedly kicked on the leg by one the patients' attendants present there. This led to an argument between the doctor and the person. In no time, this heated argument turned into a fist fight between the two.  During the fight, around 30 companions of the attendant came, and began beating all the doctors present in the vicinity. It is reported that one doctor has suffered an injury to the nose, whereas another one had to be later admitted to the same hospital.
In response to this incident, the resident doctors of the hospital, declared an immediate strike, putting a lock on the emergency department of the hospital. It is reported that both sides have filed respective police cases against each other. However, it seems that police case against doctors are more grave in nature as the patient is supposed to have filed a case of racial abuse along with other charges.
A resident doctor from DDU informed  " They have gone and filed a false case against the concerned doctors, stating that the doctors resorted to racial discrimination and abuse during the fight. They said that the doctors deliberately opened their Pagri as a part of racial discrimination against them and further resorted to violence. "
Doctors at DDU are not budging from the strike till the government provides them with more security. Dr Sumit Paria, RDA President DDU said, ""Working in such an environment is not possible. There was no security in sight when more than 30 people attacked 3 resident doctors. And now, the attendants are going around and are making false claims. Moreover, the government is as usual giving us false promises that they will do something about it. Hospital must provide us security."
Hospital authorities said a four member committee has been constituted to enquire into the matter and submit a report. Meanwhile, it seems that action against the doctors may go through. Strongly condemning the charges against resident doctors, Dr Ravinder Chauhan, General Secretary, FORDA said, " Its ludicrous that action is now being initiated against the resident doctors. These people are going on claiming that doctors resorted to racial abuse, however, the CCTV footage of the hospital shows a completely different situation. If any kind of punitive action is initiated against these victim resident doctors, by hospital administration/Delhi government/Delhi Police, all resident doctors will go on a pan Delhi strike immediately and indefinitely. We will not tolerate any kind of harassment of resident doctors."
0 comment(s) on DDU on strike after three resident doctors assaulted