................................ Advertisement ................................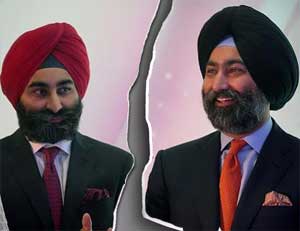 New Delhi: The Delhi High Court has directed Radha Soami Satsang Beas (RSSB) Chief Gurinder Singh Dhillon, his family members and 55 other entities and individuals to pay Rs 6,373 crore dues to an erstwhile billionaire with Fortis Healthcare, Religare and Ranbaxy Laboratories- Singh brothers; so that the brothers can settle a decade long dispute related to Daiichi Sankyo's acquisition of Ranbaxy Laboratories.
The dispute fumed after the Singh Brothers (Malvinder Mohan Singh and Shivinder Mohan Singh) were accused of suppressing critical information while selling their pharma firm Ranbaxy Laboratories to Daiichi. However, the non-disclosure of facts came to the front after the manufacturing plant faced severe regulatory issues with the US Food and Drug Administration.
Thereafter, a lawsuit was moved by with the Singapore arbitration tribunal that directed Singh brothers to pay Rs 2,562 crore to settle the dispute. The ex-Ranbaxy promoters challenged the tribunal's decision before courts in India and Singapore, however, the Delhi HC upheld the award in January 2018.
................................ Advertisement ................................
Following this, Malvinder Singh in his submission claimed that he can pay the amount, only when he can recover the money owed to him by RSSB chief Dhillon and his family and associates. It is alleged that parts of the proceeds from the stake sale in Ranbaxy Laboratories Ltd were used by the spiritual head of Radha Soami Satsang Beas, Gurinder Singh Dhillon to purchase real estate.
Also Read: Delhi High Court directs RSSB chief Dhillon, family to undertake Singh brothers dues to Daiichi
................................ Advertisement ................................
On May 28, the court had issued 'garnishee orders' against several Dhillon and RSSB associates' companies, including Prius Real Estate, Addon Realty, Payne Realtors SGGD Projects, Luminous Holding and had also increased the scope of people from whom the money owed by Singh brothers to Daiichi can be recovered to honour the arbitration award.
Recently with an order dated Septemeber 27, Justice JR Midha directed to deposit the amount with the court's registrar general within 30 days. The court held;
"The parties mentioned…are directed to deposit the amount due to respondent…with the Registrar General of this Court within 30 days…,"
The court added;
"The entities cannot "dispose of, alienate, encumber directly or indirectly, part with the possession of any assets, except in the ordinary course of business like payment of salary and statutory dues, till the next date of hearing,"
As per a recent media report in ET, any party disputing the claim should file an affidavit to place their contention on record.
Farhat Nasim joined Medical Dialogue an Editor for the Business Section in 2017. She Covers all the updates in the Pharmaceutical field, Policy, Insurance, Business Healthcare, Medical News, Health News, Pharma News, Healthcare and Investment. She is a graduate of St.Xavier's College Ranchi. She can be contacted at editorial@medicaldialogues.in Contact no. 011-43720751
To know about our editorial team click here
2 comment(s) on HC directs Radha Soami Chief, others to pay Rs 6000 crore to Singh Brothers for settling Ranbaxy-Daichii dispute