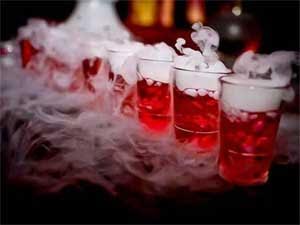 Gurugram: A Delhi businessman ended up in a hospital with his stomach "open like a book" after consuming a cocktail containing liquid nitrogen at a pub in Gurugram.
The unwitting patron, who was partying with his friends there, apparently did not wait for the white smoke created by the chemical to dissipate before consuming it, according to doctors.
Dr Amit D Goswami, who attended to the victim, said his condition during treatment was so critical that his stomach looked like an "open book".
................................ Advertisement ................................
"During the the patient's surgery, his stomach appeared like an open book in the middle and lower portion, and lots of food and dirty fluids had dripped into the abdominal cavity," he said.
................................ Advertisement ................................
The doctors then successfully removed the lower portion of the stomach and artificially joined the remaining part with the small intestine.

The man was kept on a ventilator for three more days and later discharged.
"Now the patient is doing fine," Goswami said.
The police, meanwhile, said they were taking the February 13 incident seriously and waiting for the victim to register a case against the pub.
"We are trying to identify the pub involved in this incident and obtain the victim's details from the hospital administration," ACP-PRO, Gurugram Police, Manish Sehgal told PTI.
"It is a very serious issue if the pub's staff offered cocktail with soda mixed with liquid nitrogen," he said.
Liquid nitrogen is used at bars to quickly chill glasses, freeze ingredients or provide a smoky effect to drinks.
Studied at Indraprastha College for Women (Delhi University), completed in year 2014. Currently working with Medical Dialogues, a online Medical news paper dedicated for healthcare Professionals.
0 comment(s) on Delhi man tries liquid nitrogen cocktail, ends up with a hole in stomach