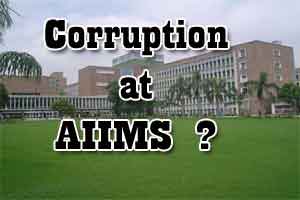 Delhi: After being appointed as the deputy secretary at AIIMS, Sanjiv Chaturvedi is reported to have filed a new affidavit before Delhi high court-only to strongly press his view on pending corruption cases at the premier institute.
This time Sanjiv's submitted affidavit alleges that corruption cases are deliberately being kept pending at AIIMS, just to save influential 'culprits'.
He further implied that there are two cases- one of Vineet Chawdhry, the then AIIMS deputy director (administration) being allegedly involved in the illegal extension of services of then AIIMS superintending engineer (SE) B S Anand. An RTI has revealed this information and as to how the case has been recommended to the Union health ministry by the CBI 15 months back. It is still pending for action by the health ministry for the last 15 months. Chawdhry is now additional chief secretary (health) in Himachal Pradesh
CBI's note to AIIMS CVO in December 2014 clearly implied that there was a clear violation of rules and regulations noted during the investigation which in turn, revealed the fact that all was not good in extension of Anand's service. It has also been established by CBI that Chawdhry misrepresented facts to the institute's president, in turn, leading to a departmental action alleging Chawdhry's involvement in the proceedings.
As additional evidence to his filed affidavit; two departmental charge sheets have been submitted along with the affidavit. The charge sheets are reported to be approved by predecessors of Union health minister J P Nadda on serious corruption charges against Chawdhry, in May 2014 and in August 2014. The current status is pending and has not even been issued to Chawdhry in the last two years.   Even investigation into alleged corruption in purchase of surgery department is shown as pending in the affidavit.
TOI reported that on January 21 this year, Chaturvedi had filed a RTI application before CPIO office of CVO, Union ministry of health and family welfare, seeking details of the file notings, documents, correspondences regarding action taken on the CBI report submitted in December 2014 to the ministry against Chawdhry and four other accused officials of AIIMS in case of granting illegal extension to Anand beside irregularities in construction of Porta Cabin in Jhajjar.
He had also sought the certified copies of file notings, correspondences and documents related to the two pending departmental charge sheets of Chawdhry regarding alleged financial irregularities in purchase of livery items, appointment of Anand and of consultants, treatment of his pet dog at AIIMS cancer centre and missing of files among others.
In response, Union ministry of health and family welfare, under secretary (vigilance) and CPIO, Lalit Kapoor on February 23 informed Chaturvedi that Self Contained Note was submitted by CBI related to grant of service extension to Anand and construction of Jhajjar Porta cabins.
0 comment(s) on Delhi: Whistleblower strikes again at AIIMS for pending corrupt cases