................................ Advertisement ................................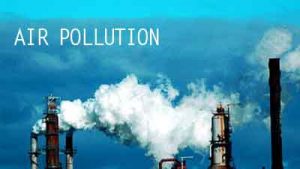 New Delhi: Delhi's air quality improved to 'poor' on Monday, even as authorities said it might deteriorate in the coming days with possibilities of 'severe' pollution. The Central Pollution Control Board (CPCB) recorded the overall Air Quality Index (AQI) of Delhi at 272 in the evening.
An AQI between 0 and 50 is considered 'good', 51 and 100 'satisfactory', 101 and 200 'moderate', 201 and 300 'poor', 301 and 400 'very poor', and 401 and 500 'severe'.
However, Centre-run System of Air Quality Forecasting and Research (SAFAR) reported an AQI in the 'very poor' category.
On Sunday, the AQI had oscillated between "poor" and "very poor" categories.
Faridabad and Gurgaon recorded 'poor' air quality; Noida and Greater Noida too reported 'poor' air quality while Ghaziabad reported 'very poor' category.
................................ Advertisement ................................
Read Also: Nearly 15,000 premature deaths due to air pollution in Delhi: Study
On Saturday, a haze had engulfed the national capital and the worst air quality of this season was recorded at 324.
An official said the air quality of Delhi might deteriorate to 'severe' category in the coming days as the air becomes heavier and results in the formation of smog.
The Supreme Court-appointed Environment Protection Control Authority (EPCA) Friday had held a meeting with officials of Punjab, Haryana and the Delhi governments to discuss the pollution situation in the national capital.
An EPCA member Friday said stock of the situation was taken and it was decided that special attention would be given to vulnerable hotspots where 'poor' or 'very poor' air quality was observed.
The PM2.5 (presence of particles in the air with a diameter of less than 2.5 micrometres) was recorded at 134. The PM2.5, also called fine particulates, can be a matter of more serious health concern than PM10.
The PM10 level (presence of particles in the air with a diameter of less than 10 micrometres) in Delhi stood at 280, according to the CPCB data.
A CPCB official said a number of factors were responsible for the deteriorating air quality, including vehicular pollution, construction activities and meteorological factors like the direction of the wind, which is now flowing from the stubble burning areas.
Satellite imagery by NASA Sunday showed countless spot fires already burning in Haryana and Punjab.
Delhi Chief Minister Arvind Kejriwal Friday warned that Delhi would become a "gas chamber soon" as the Centre, Punjab and the Haryana governments were doing "absolutely nothing" for farmers involved in stubble burning.
Medical Dialogues Bureau consists of a team of passionate medical/scientific writers, led by doctors and healthcare researchers.  Our team efforts to bring you updated and timely news about the important happenings of the medical and healthcare sector. Our editorial team can be reached at editorial@medicaldialogues.in. Check out more about our bureau/team here
................................ Advertisement ................................
0 comment(s) on Delhi's air quality improves from 'very poor' to 'poor'