Dengue will be completely controlled in TN in 10 days: Health Mini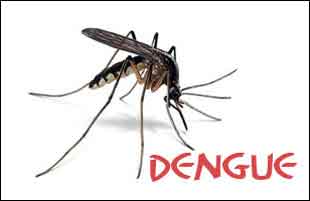 Coimbatore: Dengue will be completely brought under control in Tamil Nadu in another 10 days as government has taken various steps to check the spread of the disease, health minister, M Vijayabhaskar said.
The government has taken various measures to check the spread of dengue and "it will be controlled 100 per cent" within 10 days, he told reporters in the city after reviewing the situation at Salem Government hospital, some 150 km from here.
Stating that there is adequate stock of medicines to treat dengue patients, he said that committees had been formed to monitor those affected by the disease.
As part of creating awareness and to check spread of dengue, the Government has taken steps to distribute 'Nilavembu' (herbal concoction) through schools and the education department. Private hospitals have been asked to send dengue-positive persons to Government hospitals, he said.
Around 5,000 people have been affected by dengue so far in Tamil Nadu and anyone coming to hospitals with fever were being admitted as in-patients, he said.
Transparency is maintained in treatment and there is no hiding of facts on fever affected cases," he said.
Health secretary J Radhakrishnan, who accompanied the minister, said 10 persons had died of dengue so far, while 15 deaths were due to different types of fever were reporte
Menwhile, Coimbatore Medical College Hospital sources said the toll in the district alone has risen to 21 in the last two months, with the death of one person here yesterday.
A total of 51 persons are undergoing treatment for dengue and 198 persons for different types of fever.
A total of 3,284 persons had undergone treatment for different types of fever, including 497 for dengue last month, they said, adding that 495 patients had been treated and discharged.
Referring to NEET, the minister said that a clear picture would emerge in two days and there was no confusion.
He said that even if counselling begins on August 15, it can be completed in six days. "This year, there are 1,000 more additional medical seats," he said.
The Supreme Court had on June 12 stayed the Madras High Court order, which had restrained CBSE from publishing the NEET results. CBSE had declared the result on June 23.
On July 14, the apex court had refused to "nullify" the NEET 2017 exam,saying it would affect over six lakh candidates who have passed the test to join medical and dental courses.