Self-etch adhesives have antibacterial effect on carious dentin, Study reveals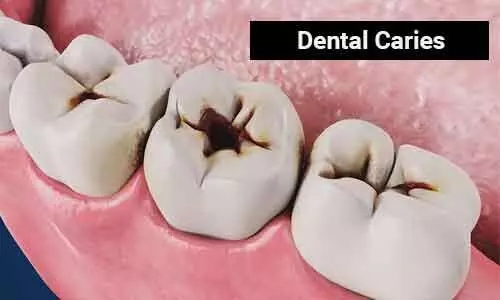 According to to recent research published in the Journal of Dentistry, researchers have found out that self-etch adhesives have an antibacterial effect due to a decrease of bacterial DNA after selective caries removal.

Carious dentin is partially demineralized and contains mineral crystals in the tubules. This may permit the deeper etching of intertubular dentin but prevent resin tag formation during bonding.
Therefore, Jana Schmidt and associates from the Department of Cariology, Endodontology and Periodontology, University of Leipzig, Germany conducted the present study to compare the antibacterial effect of a self-etch adhesive with and without the brominated monomer 12-methacryloyloxydodecyl-pyridinium bromide (MDPB) on carious dentin after selective caries removal.
The authors studied a total of 10 patients showing deep primary carious lesions at two posterior teeth without pulpal symptoms. At visit I, carious tissue was selectively removed and carious dentin was sampled with a sterile roundbur. One cavity was restored with composite (SDR, Ceram X; DENTSPLY DeTrey) using an MDPB-containing self-etch adhesive (Clearfil Protect Bond, Kuraray Noritake; PB). The other restoration served as a control (Clearfil SE Bond II, Kuraray Noritake; SE).
At visit II after 8 weeks, carious dentin was sampled again. Bacterial growth in carious dentin was differentiated using microbial cultivation. Bacterial DNA from intact cells and cell-free DNA were quantified using 16S rRNA gene-based real-time PCR and the microbial community composition was analyzed by amplicon deep-sequencing. Wilcoxon test was applied for statistical analysis.
The results showed-
a. Both treatments showed a decrease of intact bacterial cells in carious dentin at visit II compared to visit I (PB: visit I: 1.1*106, visit II: 1.7*105 (p = 0.03); SE: visit I: 1.1*107, visit II = 2.4*105 (p = 0.002)).
b. No statistically significant reduction of cell-free bacterial DNA was detected (PB: visit I: 6.1*105, visit II: 1.6*105 (p = 0.08); SE: visit I: 5.3*105, visit II: 2.9*105 (p = 0.10)).
c. The decrease of intact cell-derived (p = 0.371) and cell-free DNA (p = 0.455) did not differ significantly between PB and SE.
d. Lactobacillus was most abundant within the microbial community at both visits.
e. Alpha-diversity was not affected by treatment and samples showed high intra- and interindividual diversity.
Therefore, the authors concluded that "both self-etch adhesives have an antibacterial effect due to a decrease of bacterial DNA after selective caries removal. However, the results do not reveal any additional antibacterial effect by MDPB."
Source : Journal of Dentistry