Virtual Dental Autopsy speeds up human identification process, especially during pandemic: Study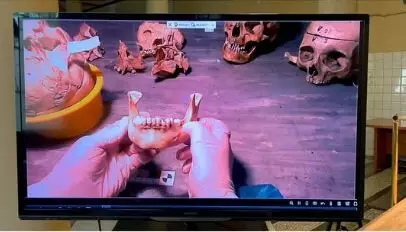 A one of its kind study, named as The Virtual Dental Autopsy Project (VIRDENTOPSY)has focused on virdentopsy procedure and revealed that this novel procedure can enhance the identification autopsy through the supplementary assessment of remote forensic odontologists, providing a dental biography and generic biological profile of the unidentified human remains. The research paper has been published in Dentistry Journal recently.

"Virdentopsy allows best practices in human identification when odontologists are not available onsite or when a second expert opinion is advised and can be considered a valuable humanitarian forensic odontology tool for the missing and unidentified human remains of unknown nationality, as well as an educational resource for hands-on training in forensic odontology."the research team quoted.
The term VIRDENTOPSY merges the terms "virtual" and "dental autopsy".The identification of human remains relies on the comparison of post-mortem data, collected during the autopsy, with the ante-mortem data gathered from the missing persons' reports.DNA, fingerprints, and dental data are considered primary identifiers and are usually collected during any human identification process.
The Human Identification Laboratory and the medico-legal section of the University of Turin started a research project in 2020 based on the hypothesis that the identification process of unidentified human remains must always comply with best practices in human identification, which should always include a complete dental autopsy even when no forensic odontologists are available onsite.
Virtual autopsy applications in forensic odontology involve the collection of dental data and comparison between ante-mortem and post-mortem orthopantomograms.It relies on radiographic imaging, CT scans,3D videos and photogrammetry documentation.
"It should enhance and accelerate the human identification process of the deceased, age estimation of the living, analysis of panoramic X-ray images, and be an educational tool for remote live training in forensic odontology and anatomy of skulls. The virdentopsy screening can reduce technical consultancy costs, as forensic odontologists do not need to be onsite; however, more importantly, it can speed up the process of human forensic identification and respect forensic human identification protocols through the complete collection and evaluation of all dental evidence, optimizing the use of human resources involved in a mass disaster scenario or a single unidentified human remains."the team concluded.
The technology required is already incorporated in the latest generation's smartphones, making this process immediately applicable and a revolutionary humanitarian forensic odontology tool in all identification processes.
For full article follow the link: Nuzzolese, E. VIRDENTOPSY: Virtual Dental Autopsy and Remote Forensic Odontology Evaluation. Dent. J. 2021, 9, 102. https://doi.org/10.3390/dj9090102
Source: Dentistry Journal
Source : Dentistry Journal