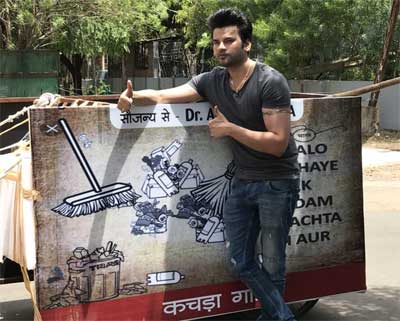 Bhopal: While using an out of the ordinary way to promote Prime Minister Narendra Modi's cleanliness initiative, 'Swachta Abhiyan', a city-based dermatologist used his "Rs 70 Lakh" worth of a luxurious sports car to collect garbage from the city.
Dr Abhinit Gupta, a dermatologist by profession recently roamed around the city while towing garbage trolley that read 'Swachta Abhiyan', attached to his sports car via ropes to collect trash.
When asked about his purpose for the same, he said, "Until we do not think clean we cannot keep the environment clean. No work is big or small but it is our duty to maintain cleanliness in our surroundings."
He stressed the fact that it is a duty of a responsible citizen of India to keep our country clean. "If I can clean my home, then why not the country, my country is my home too," he modestly added.
To further encourage this cleanliness initiative, Dr. Gupta nominated popular celebrities like, actors; Ranbir Kapoor, Ranveer Singh, Salman Khan, Amitabh Bachchan, Akshay Kumar and cricketers, Virat Kohli, Virender Sehwag and MS Dhoni to use their luxury cars the same way he did to grab every concerned citizen's attention to the crucial issue.
"Can we take this step forward? Let's take this as a challenge!! Let this swacchta abhiyaan get bigger I challenge everyone with swanky cars and bikes to help clean their cities. #70LakhKiKachraGaadi I challenge @beingsalmankhan @ranveerofficial @msdhoni @ranbirkapoor @imvkohli," read his twitter post.
Can we take this step forward ?
Let's take this as a challenge!! Let this swacchta abhiyaan get bigger I challenge everyone with swanky cars and bikes to help clean their cities . #70LakhKiKachraGaadi
I challenge @beingsalmankhan @ranveerofficial @msdhoni @ranbirkapoor @imvkohli pic.twitter.com/4okxM0eVpL

— Dr Abhinit Gupta (@drabhinitgupta) June 10, 2018
No work is big or small but it is our duty to maintain cleanliness in our surrounding i challenge #70LakhKiKachraCarChallenge @swachhbharat @narendramodi @ChouhanShivraj @PMOIndia @BJP4India @RSSorg @INCIndia @RahulGandhi @PiyushGoyal @HardeepSPuri pic.twitter.com/NEMpxaClWy

— Dr Abhinit Gupta (@dr_abhinitgupta) June 13, 2018
Following the response that he has been getting, he recently posted on Twitter, "When I first took this step I didn't expect so many people would appreciate it .. shows how much we all crave a CLEAN INDIA vroom vroom on my way to cleanliness I challenge #70LakhKiKachraCarChallenge @SrBachchan @BeingSalmanKhan @akshaykumar @virendersehwag @msdhoni @imVkohli."
When I first took this step I didn't expect so many people would appreciate it .. shows how much we all crave a CLEAN INDIA vroom vroom on my way to cleanliness I challenge #70LakhKiKachraCarChallenge @SrBachchan @BeingSalmanKhan @akshaykumar @virendersehwag @msdhoni @imVkohli pic.twitter.com/rpH1MzO7tX

— Dr Abhinit Gupta (@drabhinitgupta) June 13, 2018
0 comment(s) on Dermatologist promotes Swachta Abhigyan, uses his 70 Lakh worth car to collect Garbage