Case of Rosacea treated with light-emitting diodes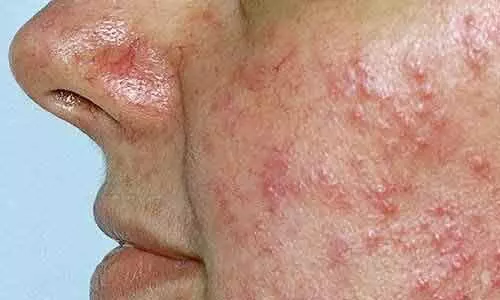 Italy: Dr Elisabetta Sorbellini at International Hair Research Foundation (IHRF), Milan, Italy and colleagues have reported two cases of Rosacea treated with light-emitting diodes. The case has been published in the Journal of Medical Case Reports.
Rosacea is a common inflammatory skin condition affecting approximately 5% of the world population. Therapeutic approaches to rosacea are focused on symptom suppression by means of anti-inflammatory agents. More recently, photodynamic therapy, especially light-emitting diodes, has been introduced as a valid alternative to conventional therapy.
A 22-year-old Caucasian woman presented to a dermatological clinic with a 5-year history of pink eruptions on her nose. She also reported a burning sensation. She was diagnosed as having papulopustular rosacea subtype, moderate grade, according to the classification and staging of rosacea developed by the NRS Expert Committee. In the previous 2 years, she was treated with two cycles of orally administered tetracycline (Lymecycline), 300 mg per day, for 12 weeks. Systemic therapy was associated with metronidazole cream 1% for cycles of 6 months.
In the last 6 months before the visit, she also submitted to 40% pyruvic acid peeling every 25 days, with poor response and continuous relapses. A combined and sequential plan of blue (480 nm ± 15 nm, 300 J/minute) and red (650 ± 15 nm, 100 J/minute) LED therapy regimen was planned twice a week for a total of ten sessions. A quasi-monochromatic 120 LED system (Dermodinamica® instrument, ELISOR Srl, Milan, Italy) was used for 15 minutes (each wavelength).
Erythema, burning sensation and itching were assessed using a visual scale grading (0 = no symptoms, 4 = very severe). Erythema and papules were subjectively assessed by the dermatologist, whereas the intensity of itch and burning sensations was expressed by our patient. A good response was obtained for the patient after ten treatments with LEDs. The patient reported a reduction of symptoms such as burning and itching. Also, a reduction of erythema and papules was observed after five sessions of LED therapy (Figs. 1b and 2b). Further improvement was observed at the end of treatment: ten sessions of LED therapy (Figs. 1c ).
Several therapeutic approaches are currently available for treating rosacea and they are mainly aimed at controlling disease symptoms. The therapeutic plan has to be adapted to the rosacea subtype and tailored according to the dominant manifestations of the patient [32, 35]. In general, the reduction of oral therapy in favour of topical or physical therapy is desirable in order to reduce side effects for patients and increasing the safety of the treatment.
For further reference log on to:
Coupled blue and red light-emitting diodes therapy efficacy in patients with rosacea: two case reports
Source : Journal of Medical Case Reports