Guideline on diagnosis and treatment of vitiligo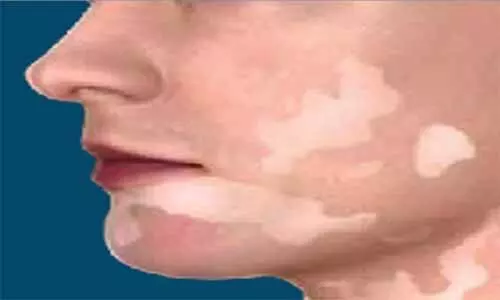 Germany: A recent study in the Journal of the German Society of Dermatology reports S1 guidelines for the diagnosis and treatment of vitiligo.
Vitiligo is a common skin condition in which immune-mediated destruction of melanocytes occurs. The most common clinical subtype is non-segmental vitiligo which usually has a chronic course and often results in significant psychosocial consequences for the affected patient. Early recognition, awareness of comorbidity, precise assessment of disease extent and activity, evaluation of impairment of quality of life as well as rapid initiation of treatment based on currently available evidence-based therapies are crucial cornerstones in the management of vitiligo. The guideline helps in better understanding of vitiligo diagnosis and treatment.
Diagnosis of vitiligo
Recommendation
Given the increased prevalence of thyroid diseases, determination of TSH, as well as TPO and TG antibodies, is recommended as an initial screening test and then annually in vitiligo patients. Additional screening tests for circulating autoantibodies are only useful in case of relevant clinical and laboratory evidence.
Therapy of vitiligo
Recommendations
Topical corticosteroids are first-line medications for limited vitiligo and extra facial involvement. Recommended are potent corticosteroids (class III) with improved therapeutic index, such as mometasone furoate, for a period of three to six months. This therapy is also suitable for children. Here, systemic resorption in intertriginous areas has to be considered.
Topical calcineurin inhibitors are only approved for atopic dermatitis and can, therefore, only be prescribed off-label as an alternative to topical corticosteroids in vitiligo. Their advantage is the safety in long-term application, given that prolonged application does not trigger skin atrophies compared to topical corticosteroids. Efficacy in the face and neck region is comparable to high-potency corticosteroids. Topical calcineurin inhibitors should be applied twice a day and, depending on the response, for 6–12 months. In case of successful repigmentation (even after phototherapy and targeted light therapy), proactive therapy applied twice a week will reduce the recurrence risk.
B-UVB (two or three times a week) is the best-studied and documented therapy in patients with NSV. NB-UVB is indicated for generalized vitiligo if topical therapy seems no longer feasible due to the extent of disease, and for active, progressive vitiligo to arrest disease activity. Given the more favorable risk-benefit profile, NB-UVB is superior to systemic PUVA therapy, which is mostly obsolete in vitiligo. Therapy with NB-UVB should be evaluated with respect to its effect after three months. In case of absent repigmentation, irradiation should be discontinued after six months at the latest; in general, however, therapy should be performed for not more than 12–24 months. Combination with topical corticosteroids or calcineurin inhibitors may enhance the effect of NB-UVB. The significant improvement compared to monotherapy is, however, only achieved in the face and neck region, but not in other areas of the body, such as the trunk and extremities. In rapidly progressing NSV, NB-UVB may also be combined with systemic corticosteroids. NB-UVB is a safe therapy with few side effects. Overall, the data currently available on the development of NMSC in vitiligo patients after UV therapy indicate a very low, if any, risk of developing NMSC even in patients with long-term treatment.
Numerous studies underscore the effect of the 308-nm excimer laser and 308-nm excimer lamp in vitiligo. With respect to the effectiveness of repigmentation, both therapies appear to be equal. Since excimer therapy does not treat the entire skin but only targeted vitiligo lesions with light, and since a more than 70 % lower cumulative dose in the treatment area is sufficient to achieve the same result, the use of an excimer lamp and excimer laser seems to be safer with respect to potential NB-UVB side effects. Therefore, the 308-nm excimer laser and 308-nm excimer lamp are primarily applicable for SV and NSV of a limited extent. Combination with topical and systemic medications (for example, corticosteroids, topical calcineurin inhibitors) appears to enhance the effect of targeted light therapy.
Oral mini-pulse therapy with corticosteroids (for example, dexamethasone, prednisone, or methylprednisolone) on two consecutive days per week may be considered to achieve disease arrest in acute, rapidly progressing vitiligo. Therapy duration is 3–6 months; mild to moderate side effects of cortisone are common. This form of therapy is not recommended as monotherapy for repigmentation. Therapy with anti-TNF biologics may increase the risk of developing vitiligo.
Surgical therapies are suitable for therapy-resistant stable vitiligo, especially for segmental and focal vitiligo. Careful selection of patients is essential. The selection of the optimal technique is based on the location of the skin lesions as well as individual expertise and equipment.
Given the increased sensitivity of lesioned skin areas to sunlight, strict application of highly potent broad-spectrum sunscreens is recommended.
Dermatocosmetic products, such as creams and sprays, liquid or compact formulations, concealers, and fixing sprays, enable the covering of vitiligo lesions. Due to potential koebnerization, attention should be paid to gentle cleansing techniques. Due to the unpredictable course of vitiligo, permanent pigment correction may lead to esthetically unsatisfactory results.
Different esthetic norms, stigmatization, unpredictable course of the disease and lack of availability of a universal therapy result in psychological distress and impairment of quality of life (see above). Special assessment tools, such as Vitiligo Impact Patient scale (VIPs), Dermatology Life Quality Index (DLQI), or Vitiligo-specific Quality-of-Life (VitiQoL) questionnaire, can be used for identification of patients benefitting from psychotherapeutic intervention.
Self-help organizations and self-help groups provide all vitiligo patients the opportunity for mutual contact and should be recommended to patients for questions concerning the day-to-day management of the disease.
Depigmentation should only be considered in extremely rare cases and after the exploitation of all therapeutic options. Due to the irreversible destruction of melanocytes, such intervention should be used very restrictively and only after a thorough discussion with the patient.
Reference:
S1 Guideline: Diagnosis and therapy of vitiligo, was published in the Journal of the German Society of Dermatology.
DOI: https://doi.org/10.1111/ddg.14713
KEYWORDS: Journal of the German Society of Dermatology, vitiligo, diagnosis, therapy, skin disorder, topical corticosteroids, topical calcineurin inhibitors, phototherapy, immunosuppressive
Source : Journal of the German Society of Dermatology Medha, MSc. Biotechnology
Medha Baranwal joined Medical Dialogues as an Editor in 2018 for Speciality Medical Dialogues. She covers several medical specialties including Cardiac Sciences, Dentistry, Diabetes and Endo, Diagnostics, ENT, Gastroenterology, Neurosciences, and Radiology. She has completed her Bachelors in Biomedical Sciences from DU and then pursued Masters in Biotechnology from Amity University. She has a working experience of 5 years in the field of medical research writing, scientific writing, content writing, and content management. She can be contacted at  editorial@medicaldialogues.in. Contact no. 011-43720751