Mucocutaneous manifestations in COVID-19 affected children: JAAD Study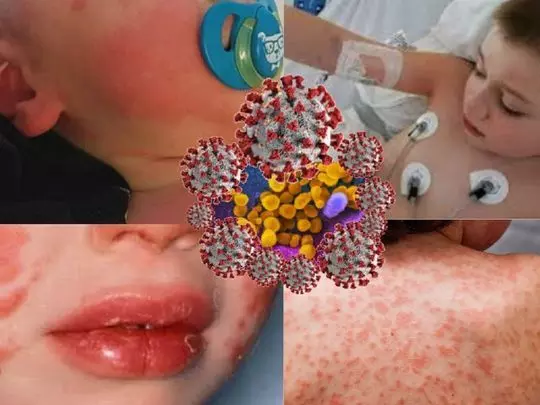 The present COVID pandemic due to SARSCoV- 2 is one of the most severe influenza pandemic seen till date. Multisystem inflammatory syndrome in children (MIS-C) is the most serious condition associated with SARSCoV- 2 infection in the pediatric population. Gastrointestinal and mucocutaneous manifestations are frequent in MIS-C. Recently a study describing the mucocutaneous manifestations of hospitalized children with COVID-19 infection was published in the Journal of American Academy of Dermatology.

A descriptive, analytical study was conducted on a series of 50 children hospitalized with COVID-19 between March 1, 2020, and November 30, 2020. Patients included in the study fulfilled at least 1 of the following criteria-
Positive reverse transcriptase polymerase chain reaction (RT-PCR) for SARS-CoV-2 collected from a nasopharyngeal and oropharyngeal swab.
Clinical suspicion (symptoms compatible with MIS-C or symptoms compatible with COVID-19 with a close contact having tested positive for COVID-19) and a positive immunoglobulin-M enzyme-linked immunosorbent assay for SARS-CoV-2.
The case definition for MIS-C was fixed as per CDC guidelines2:
Individual < 21 years of age with fever, laboratory evidence of inflammation and clinical evidence of severe illness requiring hospitalization, with multisystem organ involvement

No alternative plausible diagnoses

Positive for current or recent SARS-CoV-2 infection as determined by an RT-PCR, serology, or antigen test, or exposure to a suspected or confirmed COVID-19 case < 4 weeks prior to the onset of symptoms.

Results

The main reasons for admission were respiratory illness (40%) and MIS-C (40%). The most frequently encountered symptoms were fever and gastrointestinal symptoms. Mucocutaneous symptoms were present in 21 patients: 18 patients with macular and/or papular exanthem, 17 with conjunctival hyperemia, and 9 with red cracked lips or strawberry tongue. In patients with maculopapular exanthem limbs (78%) and trunk (72%) were the most commonly involved and face (33%) was the least commonly affected. Mucocutaneous symptoms were fourth in frequency, after fever, respiratory symptoms, and gastrointestinal symptoms.
MIS-C was diagnosed in 18 children. Patients with mucocutaneous involvement were older and presented to the emergency department with poor general status and extreme tachycardia, higher C-reactive protein and D-dimer levels, and lower lymphocyte counts than patients without skin signs.
Mucocutaneous manifestations proved to be a high risk factor for admission to the pediatric intensive care unit (odds ratio, 10.24; 95% confidence interval, 2.23-46.88; P = .003) and a longer hospital stay. The odds ratio for conjunctival hyperemia was 30.28 (3.25-281.69; P = .003), and the odds ratio for rash was 6.22 (1.42-27.26; P = .015). Conjunctival hyperemia was a better independent predictor of PICU admission than the exanthem itself. Thus the natural 4- to 5-week gap between SARS-CoV-2 infection and the development of MIS-C symptoms warrants monitoring of affected individuals.
In conclusion the presence of any mucocutaneous lesion in febrile children especially if associated with gastrointestinal complaints in the current epidemiologic context should alert the pediatrician to the possibility of a severe COVID-19 case and prompt interrogation about close contacts with suspected or confirmed COVID-19 cases to diagnose MIS-C at the earliest if present.
Source-
Andina-Martinez D, Nieto-Moro M, Alonso-Cadenas JA, et al. Mucocutaneous manifestations in children hospitalized with COVID-19. J Am Acad Dermatol. 2021;85(1):88-94. doi:10.1016/j.jaad.2021.03.083

Centers for Disease Control and Prevention. Multisystem inflammatory syndrome in children (MIS-C) associated with coronavirus disease 2019 (COVID-19). Accessed December 1, 2020. Available at: https://emergency.cdc.gov/han/2020/han00432.asp
Source : Journal of American Academy of Dermatology