Novel therapies for keloids - a review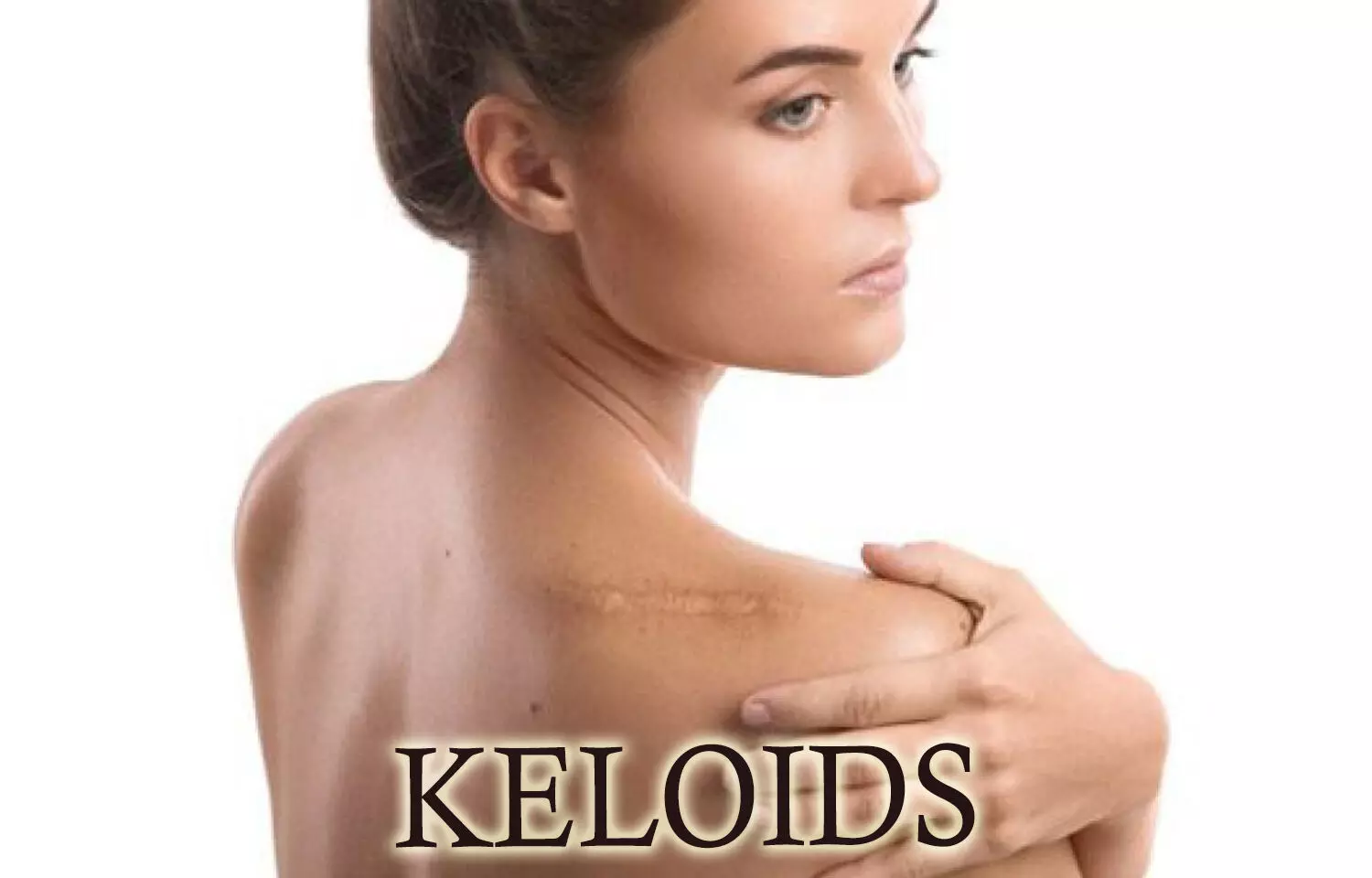 Keloids are aberrant tissue scarring on injured skin, caused by excessive collagen and extracellular matrix deposition. Keloid has a genetic component so predisposition can be seen in families. Keloids are difficult to treat and highly recurrent. Its impact on quality of life is immense due to psychological stress, cosmetic concerns and functional disability. A review of the new therapies for keloids was recently published in Clinical and Experimental Dermatology journal.
They are common in darker skin, women and those < 30 years of age. The incidence ranges from 5-15%. Keloids are more common on the sternum, upper back and ear. It presents as erythematous, flesh-coloured, or hyperpigmented firm and rubbery nodules associated with pain, itching, burning sensation, and tenderness.

First-line therapy for keloids include intralesional corticosteroid injection, silicone elastomer sheeting, cryotherapy, or pressure dressing but these modalities can cause hyperpigmentation, pain, telangiectasia, or skin atrophy. Second-line treatments include surgical excision of keloid, combined corticosteroid and cryotherapy, or a triple therapy including surgery followed by corticosteroid injection and silicone sheeting. The emerging treatments are bleomycin, verapamil, botulinum toxin, Mesenchymal stem cell, interferon, mitomycin C, Fat grafting, and epigenetic therapy.
Interferons (IFN)
These are a group of cytokines that exerts immunoregulatory, anti-proliferative functions and anti-fibrotic functions. IFN-α2b and IFN-γ are therapeutic options for keloids. IFN-γ regulates collagen accumulation by inhibiting the synthesis of type I and type III and dissolving the stimulatory effect of TGF-β1. Both interferons have depicted satisfactory outcomes but there is no consistent regimen of interferon-alpha-2b.
Botulinum toxin A (BXT-A)

BXT-A decreases the levels of TGF-β1 and CTGF, preventing fibroblast differentiation into myofibroblast, and altering the gene expressions of S100A VEGF, MMP-1, PGDFA. It is equally effective as triamcinolone.
Bleomycin

It induces apoptosis with sclerosing action on endothelial cells by inhibiting the collagen synthesis via lysyl oxidase and TGF-β, which forms the basis of anti-keloid activity.
Mitomycin C

It confers an anti-proliferative effect on wound fibroblast by inhibiting DNA synthesis.
Calcium channel blockers

Verapamil accelerates the degradation of scar tissue by inducing procollagen secretion. This changes the fibroblast shape, induces TGF-β1 apoptosis, reduces ECM production, and depolymerizes actin filaments. Intralesional verapamil has been used safely in the treatment of keloid scars. It is used in abdominoplasty and mammaplasty scar treatment to prevent recurrence following plastic surgery
Mesenchymal stem cells (MSCs)

These cells are delivered to the wound via systemic injection, local injection, intradermal or subcutaneous, and engineered MSC-seeded tissue scaffolds. MSCs can produce growth factors which encourage tissue repair by stimulating a cascade of molecular events comprising of inhibition of inflammatory responses, increased activity of endothelial cells and fibroblasts, and the proliferation and differentiation of tissue progenitor cells.
ACE Inhibitors

These modulate collagen production and wound healing but have better effects on newer lesions than long-standing lesions. It blocks angiotensin-I receptor present in keloids leading to delay in collagen synthesis and deposition during the healing process.
Fat grafting

It promotes tissue regeneration by modulating fibrogenesis with better cosmesis. It contains adipose stem cells, which can differentiate into a variety of tissues with specific properties such as angiogenesis and anti-apoptosis. In post-burn patients, fat injection at the dermal-hypodermal junction in keloids has led to improvement in skin texture, softness, thickness, and elasticity.
Genetic and epigenetic therapy

Expression of TGF β1, phospho smad2 and phospho smad3 were high in keloid lesions, while expression of smad7 was low. The miRNA expression patterns in keloid fibroblasts were different from those derived from normal skin hence miRNA modulation is a new therapeutic approach as anti-fibrotic agent in keloid.
In conclusion this review summarizes the concepts of keloid development and advanced treatment modalities increasing the horizon of dermatologists to treat resistant and recurrent cases of keloids not responding to conventional therapy.

Source- Naik PP. Review on novel targets and therapies for Keloids. Clin Exp Dermatol. 2021 Sep 4. doi: 10.1111/ced.14920. Epub ahead of print. PMID: 34480483.
Source : Clinical and Experimental Dermatology journal