Ruxolitinib shows promise in managing atopic dermatitis: Study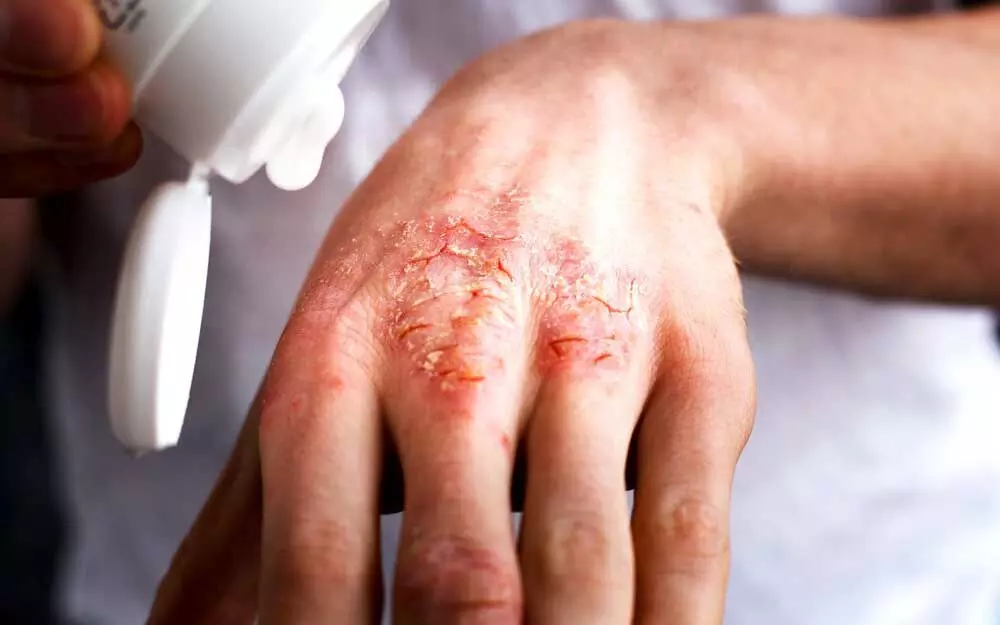 In a recent development, researchers have highlighted that Ruxolitinib (RUX) cream has shown anti-inflammatory and prompt antipruritic effects with superior efficacy versus vehicle and was well tolerated, in a phase 2 study in adults with atopic dermatitis (AD).Findings have been put forth in Journal of the American Academy of Dermatology.

Atopic dermatitis (AD) is a common, chronic, and relapsing inflammatory skin disease in which itch has a substantial and negative impact on the quality of life (QoL) of both patients and their caregivers. QoL burden in AD is similar to that of other chronic diseases, such as psoriasis and asthma, even in patients with mild to moderate disease.
Currently, the management of AD includes topical treatments such as emollients, corticosteroids, calcineurin inhibitors, and a recently approved phosphodiesterase 4 inhibitor (crisaborole) that are designed to restore skin barrier function and/or suppress inflammation.However, current topical therapies may be limited by local tolerability issues, restrictions for use on sensitive skin areas, and/or insufficient efficacy.
Ruxolitinib (RUX), a potent, selective inhibitor of JAK1 and JAK2, has a low molecular weight and is amenable to formulation in water-containing vehicles.it is well documented that Janus kinases (JAKs) mediate type 2 and other cytokine signaling involved in the pathogenesis of AD.In addition, JAK inhibition also occurs directly on sensory neurons and may also improve skin barrier function. Thus, JAK inhibitors are uniquely suited for the treatment of AD through their beneficial effect on inflammation and restoration of the epithelial barrier
So,researchers aimed to evaluate 8-week efficacy and safety in two phase 3 studies of RUX cream in patients with AD.For the study design, TRuE-AD1 (NCT03745638) and TRuE-AD2 (NCT03745651) enrolled patients aged ≥12 years with AD for ≥2 years, an IGA score of 2/3, and 3% to 20% affected body surface area. Patients were randomized 2:2:1 to twice-daily 0.75% RUX cream, 1.5% RUX cream, or vehicle cream for 8 continuous weeks. The primary endpoint was IGA treatment success (IGA-TS) at Week 8 (IGA score of 0/1 and ≥2-grade improvement from baseline).
Data analysis put forth some interesting facts.
In TRuE-AD1/TRuE-AD2, 631/618 patients were randomized (631/577 analyzed for efficacy). Significantly more patients achieved IGA-TS with 0.75% RUX cream (50.0%/39.0%) and 1.5% RUX cream (53.8%/51.3%) versus vehicle (15.1%/7.6%; P<0.0001) at Week 8.
Significant itch reductions versus vehicle were reported within 12 hours of first application of 1.5% RUX (P<0.05).
Application site reactions were infrequent (<1%) and lower with RUX versus vehicle; none were clinically significant.
For full article follow the link: DOI: 10.1016/j.jaad.2021.04.085
Primary source: Journal of the American Academy of Dermatology
Source : Journal of the American Academy of Dermatology