Frontal fibrosing alopecia from a clinician's perspective: JAAD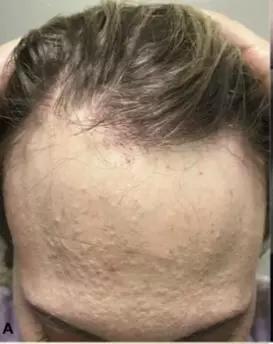 Frontal fibrosing alopecia (FFA) is a scarring alopecia of the frontotemporal scalp, considered a variant of lichen planopilaris seen commonly in postmenopausal women. Eyebrow alopecia is most commonly associated but axillary, pubic, face and extremities may be involved. Perifollicular inflammation may be clinically evident.

Hormonal factors, autoimmunity, genetic susceptibility and exogenous factors have been implicated in its pathogenesis. It is a T helper cell type 1 (Th1) reaction targeting the infundibulum and isthmic region of hair follicle damaging the bulge area which is the niche of follicular stem cells. Downregulation or abnormal function of the peroxisome proliferator-activated receptor-γ (PPAR-γ), pivotal for healthy pilosebaceous units has been implicated in lichen planopilaris. Dehydroepiandrosterone is essential for the stimulation of PPAR-γ which explains the efficacy of 5α-reductase inhibitors in FFA.
Study by Pindado-Ortega et al demonstrated statistically significant stabilization rate of Frontal fibrosing alopecia (FFA) after 12 months in dutasteride group (n = 148) compared to other systemic therapies (hydroxychloroquine, doxycycline, and istotretinoin, n = 20) and without systemic treatment (n = 56). Role of facial moisturizers, sunscreens and other skin or hair care products in pathogenesis of Frontal fibrosing alopecia (FFA) is controversial.
According to latest systematic review on FFA, topical and intralesional corticosteroids are often used as first-line therapies because of their minimal side-effect profile.2 Hydroxychloroquine and 5a-reductase inhibitors (dutasteride or finasteride) were stated to be the most effective therapies. 2
In conclusion, FFA is a disease with increasing prevalence so knowledge about is essential but at the same time further studies are required to understand the pathogenesis, develop a Frontal fibrosing alopecia (FFA) severity scale and treat the disease.
Source-
Heymann WR. Confronting frontal fibrosing alopecia. J Am Acad Dermatol. 2021 Aug;85(2):319-320. doi: 10.1016/j.jaad.2021.05.015
Dina Y, Aguh C. An algorithmic approach to the treatment of frontal fibrosing alopecia-a systematic review. J Am Acad Dermatol. 2018. https://doi.org/10.1016/j.jaad.2018.10.043.
Source : Journal of American Academy of Dermatology