Despite Protests, NMC Bill to replace MCI likely in ongoing Parliament session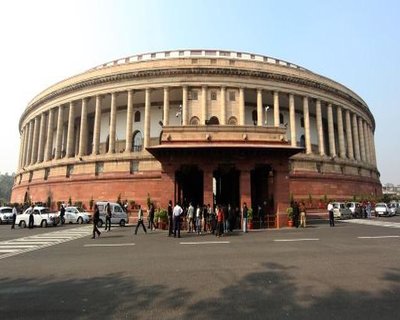 New Delhi  : The government is likely to place the bill that seeks to replace the Medical Council of India (MCI) with National Medical Commission (NMC) before Parliament in the ongoing Winter Session.
"The proposed National Medical Commission Bill, 2016 has been finalised by the Aayog and it is likely to be placed before Parliament for passage in the current session," a source said.
The bill has to be approved by the Cabinet after which it will be placed before Parliament, the source added.
This comes despite the fact that the proposed bill has been met with strong opposition from many sections of the medical fraternity including Indian Medical Association, etc who have pointed out that the proposed bill takes away the autonomy and the democratic structure from the medical profession in election of its council.
Read Also : 2.7 lakh IMA members to Oppose National Medical Commission Bill
Earlier this year, a high-level committee headed by Niti Aayog Vice-Chairman Arvind Panagariya looked into the issue of poor regulation of medical education by MCI and proposed replacing MCI with NMC.
Besides Panagariya, the panel included Prime Minister's Additional Principal Secretary P K Mishra, Niti Aayog CEO Amitabh Kant and the Union Health Secretary.
The committee was formed to suggest reforms in the Indian Medical Councils (IMC) Act, 1957.
After approval, NMC will become the main regulatory body and will take over all roles and responsibilities of MCI.
The new body will have eminent doctors and experts from related fields to steer medical education in the country so as to ensure quality of education is at par with global standards.
NMC will have around 19-20 members, including the chairman, and their tenure will be about five years. It will also have members from other fields such as economics and law.
It will have four boards Under Graduate Medical Board, Post Graduate Medical Board, Accreditation and Assessment Board and a board for registration of medical colleges as well as monitoring of ethics in the profession.
There will also be a Medical Advisory Council (MAC), with members from states who can be an eminent professional such as a professor from a medical college and the like. There will be two members from Union Territories. NMC members will also be its members and its role will be advisory.
Earlier this year, a parliamentary committee had called for revamping the MCI, saying it has failed in its role as a regulator which has led to a downfall in India s medical education system.