HbA1c lowering by Sulfasalazine in diabetes due to haemolytic effects: Study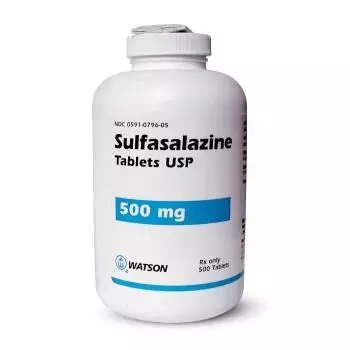 Sulfasalazine is associated with HbA1c lowering by hematological changes consistent with haemolysis and not by glycemia, suggests a study published in the DIABETIC Medicine journal on 25 November 2020.

Sulfasalazine was the first ASA (aminosalicylate) drug effective in inflammatory bowel disease (IBD). The development of 5‐ASA drugs lacking the sulphonamide group eliminated the side effects associated with sulfasalazine. These newer drugs such as mesalazine, balsalazide and olsalazine release the active compound when the drug reaches the distal small bowel area, allowing the benefits of 5‐ASA in IBD without the systemic adverse side effects of sulfasalazine. Several small studies indicate the sulphonamide component of the drug sulfasalazine lowers HbA1c. Based on previous case report/series evidence researchers in the University of Dundee conducted an observational study to assess sulfasalazine association with HBa1C. They also investigated the effect of 5‐ASA drugs on markers of haemolysis, including full blood count–red blood cells (RBC), mean cell haemoglobin (MCH) and haematocrit (HCT).
It was an observational cohort study including Individuals from the Scottish Care Information Diabetes Collaboration (SCI‐Diabetes) with type 2 diabetes and an incident prescription for aminosalicylate drugs (sulfasalazine, n=133; mesalazine, n=103). Baseline and 6‐month HbA1c levels were assessed. To investigate the association with haemolysis, researchers assessed a change in components of full blood count.Baseline characteristics were similar in all patients.
Upon analysis researchers found that the mean (SD) HbA1c reduction at 6 months was −9 ± 16 mmol/mol (−0.9 ± 1.4%) in those taking sulfasalazine, with no reduction in those taking mesalazine (2 ± 16 mmol/mol (0.2 ± 1.4%). They also noted Sulfasalazine was associated with a mean (SD) increase in mean cell volume of 3.7 ± 5.6 fl and decrease in red cell count of −0.2 ± 0.4 × 10−12/L. This association was not observed with those in mesalazine.
The authors concluded, "In this observational, population‐based study, sulfasalazine initiation was associated with a 6‐month reduction in HbA1c. This correlated with haematological changes suggesting haemolytic effects of sulfasalazine. Haemolysis is proposed to contribute to HbA1c lowering through the sulphonamide pharmacophore. This suggests that HbA1c is not a reliable measure of glycaemia in individuals prescribed sulfasalazine".
For further information:
DOI: https://doi.org/10.1111/dme.14463
Article Source :
 DIABETIC Medicine