Overt hypogonadism a CVD risk factor for male diabetes patients: study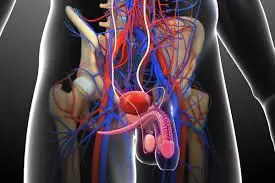 Overt hypogonadism is cardiovascular disease (CVD) risk factor for males in type-2 diabetes mellitus (T2DM), according to a study published in Andrologia.

Male hypogonadism is a condition in which the body doesn't produce enough of the hormone that plays a key role in masculine growth and development during puberty (testosterone) or enough sperm or both.
A team of researchers from Turkey conducted a study to evaluate the effects of hypogonadism on metabolic and chronic complications in type 2 diabetic males. 261 nonobese males with type 2 diabetes aged 18-70 were involved in the study.
Hypogonadal males were divided into 2 groups as overt hypogonadism (total testosterone≤230 ng/dl) and borderline hypogonadism (230-345 ng/dl). The control group involved eugonadal diabetic males. Micro-macrovascular complications were recorded.
The results of the study are as follows:
This analysis involved 261 non-obese males with type 2 diabetes aged 18–70; hypogonadal males (38.7%) included overt hypogonadism and borderline hypogonadism and controls were eugonadal diabetic males (61.3%).
A significantly higher macrovascular complication rate was seen in hypogonadal males, with no difference in microvascular complication rate.
Hypogonadal patients had significantly lower optimal glycosylated haemoglobin achievement(<7%).
Independent risk factors for macrovascular complications included overt hypogonadism, hypertension, hypercholesterolemia and severe hypoglycemia, with ORs 1.0, 2.6, 1.8, and 1.0, respectively.
Independent risk factors for microvascular complications were: diabetes duration (≥5 years) and poor glycemic control, with OR 1.0 and 2.0, respectively.
Thus, the researchers concluded that As a result, hypogonadism is frequent among diabetic males and poor glycaemic control may be an important contributing factor. Furthermore, overt hypogonadism is an important cardiovascular risk marker. Therefore, ensuring eugonadal in diabetic patients may positively affect both glycaemic control and complications.
Reference:
Overt hypogonadism is a cardiovascular risk factor in type 2 diabetic males: An observational study by Ayten Oguz et al. published in the Andrologia.
DOI: 10.1111/and.14271
Source : Andrologia