Sense Glucose Earring could revolutionise blood sugar management in T1 Diabetes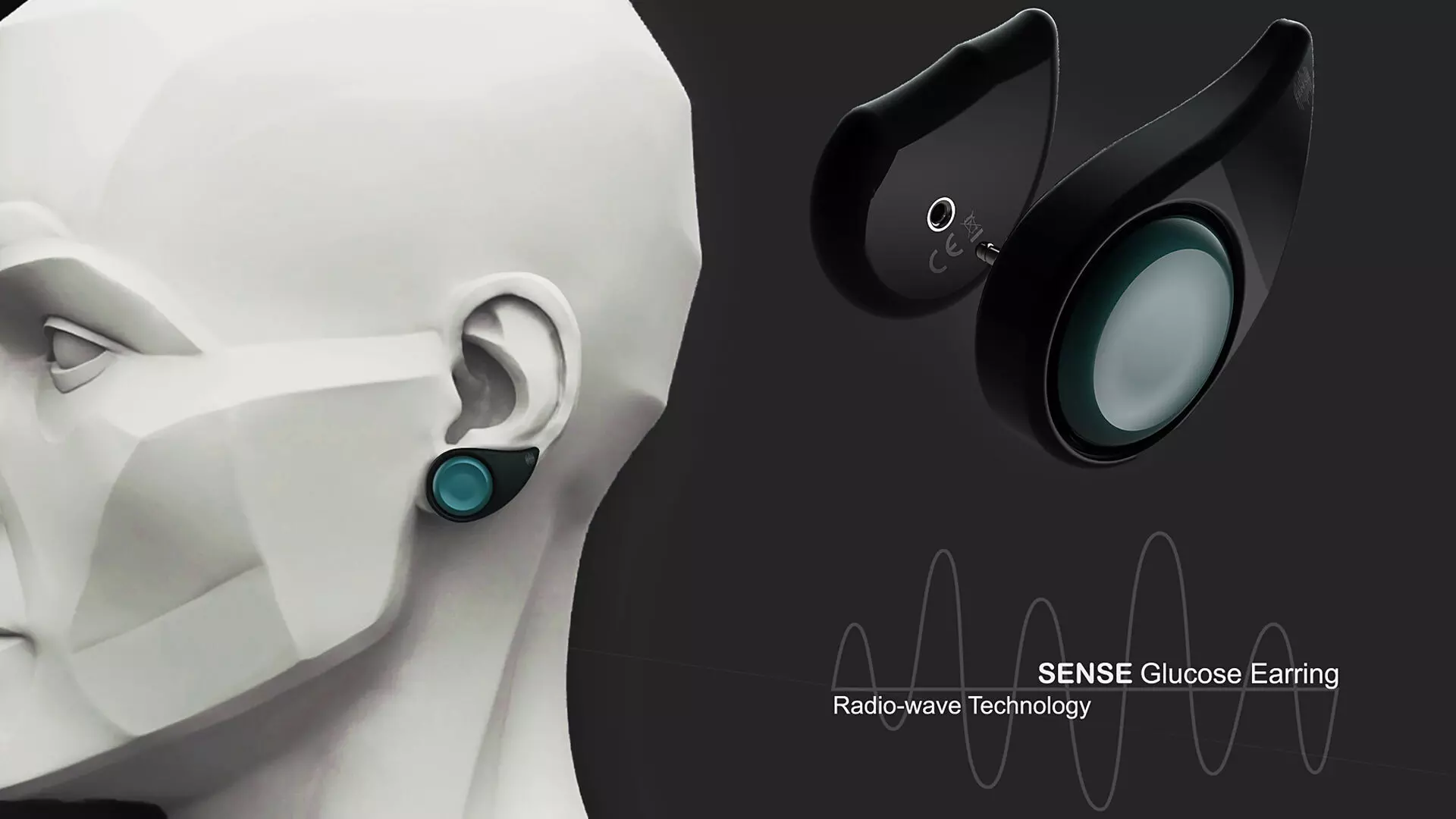 The Sense Glucose Earring is a non-invasive blood sugar monitor that could revolutionise how patients manage type 1 diabetes. The novel and discreet earring monitors blood sugar levels and delivers feedback in real-time.

This new device is a practical way to monitor blood sugar with an app that could provide future internet of application, feeding into precision therapy and intervention and
of course, wearables are in vogue.
Designed by 22-year-old Tyra Kozlow a PRODUCT design graduate from University of Huddersfield, the wonder product has won her laurels at 2020 Global Grad Show and has given her opportunity to become one of the finalists in the event.The item of wearable technology has been created in the hope of lessening the stigma for teenagers diagnosed with type 1 diabetes so that monitoring their condition becomes much more a part of everyday life.
The Sense Glucose Earring is a non-invasive diabetes-monitoring device. It requires a single lobe piercing which incorporates safe high-frequency radio-waves that penetrate through the lobe and provides data on the characteristics of the blood.

The good thing about this device is that it does not require constant and repeated blood samples. It only uses rechargeable batteries, thus reducing the amount of medical and plastic waste produced. After monitoring of the blood, Sense connects with an app to alert the user about their current levels of blood sugar and sends them notifications. The app can share data, analyse trends and generally helps the user to manage their condition.

Type 1 diabetes is a life limiting disease, with sufferers having a life expectancy reduced by over 20 years. Over the years improved therapy,public awareness and research have played a role in significantly improving outcomes for diabetes sufferers, but the constant monitoring of blood sugar remains a challenge.According to
diabetes.co.uk
, 6 out of 7 teenagers struggle to get their long-term blood sugar control within the target range, so an HbA1c value below 7.5 percent.
Ideal diabetes management is based on finding the perfect balance of medication to keep a patient's blood sugar in the perfect range: if their blood sugar is too high, there are significant risks of vascular complications, such as vision problems and kidney disease; if their blood sugar is too low, it can lead to morbid outcomes, including fainting, seizures, or even death.

"Even though type 1 diabetes is not the fault of the person affected by it and is not related to any behaviour patterns or choices," said Tyra, "young people diagnosed with the condition do experience a distressing level of stigma and can be twice as likely to have poor glycaemic control which can lead to further health problems."
Tyra is confident that the Sense Glucose Earring will have a positive impact on a younger generation of type 1 diabetics. "I hope Sense will help teenagers feel more in control of their diabetes and that they will feel more encouraged to manage their condition around their friends because it's a piece of Smart technology they will be using," said Tyra. "By making the monitoring process as easy as say, measuring your heart rate on a Smartwatch, I hope this will lessen the stigma, so it becomes much more a part of everyday life," she added.
Source: The University of Huddersfield
More about the University of Huddersfield at: www.hud.ac.uk
Source : University of Huddersfield