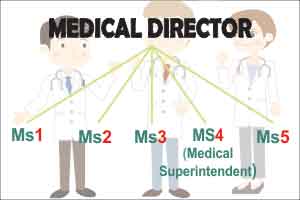 With a view to reduce the burden of Medical Superintendents and help doctors focus on clinical work, AAP government has directed the division of powers of Medical Superintendents working in various government hospitals. This comes a few days after the Delhi government abolished the post of CDMOs in various districts.
Read Also: Delhi Govt to abolish posts of CDMOs
We today reviewed performance of all government hospitals in last one year. We have decided to change the administrative system. Government has decided to appoint four-five medical superintendents in our four big hospitals. One medical director has also been appointed in each hospital," Jain told reporters here.
 As per the Plan of the government, from now on there will be separate administrative heads for important departments like emergency, mother and child care, etc. This will help in decentralised management of government hospitals, which will be led by one Medical Director, who shall coordinate with different Medical Superintendents.
"The medical director will overall handle the entire hospital functioning. We are planning to make doctors free from non-clinical work. The doctors will soon be able to dedicate all their time to patients," said Satyendar Jain, Minister for Health and Family Welfare, Delhi government.
Guru Tegh Bahadur in East Delhi will get five new medical superintendents for mother and child care unit, surgery, accident and emergency and other departments.Dr Sunil Kumar will now be the medical director of GTB Hospital .Deen Dayal Upadhyay Hospital will have 3 medical superintendents with Dr Savita Babbar as the medical director.
Among the bigger hospitals, Lok Nayak Hospital will have one medical director and five medical superintendents reported
Deccan Herald
. Dr Y K Sarin, medical superintendent at LNJP, has been given charge of an advanced paediatric centre. Dr D K Tempe has been appointed medical director at LNJP and dean of Maulana Azad Medical College.
Similarly, there will be four medical superintendents Ambedkar Hospital. Incidently this news coincides with the greed nod for setting up a Medical College at Ambedkar Hospital by Medical Council of India.
This major administrative overhaul, one of its kind, is expected to be most beneficial for thousands of patients whose daily load was proving out to be cumbersome for just one Medical Superintendent.
"It is extremely difficult for an individual to handle the entire hospital alone.Large numbers of patients face problems in the emergency ward as the doctor is also occupied with too much of work," added Jain.
The health minister also announced that soon date of surgeries will go online on the website of the health department.
0 comment(s) on Different MS for different departments at Delhi government hospitals