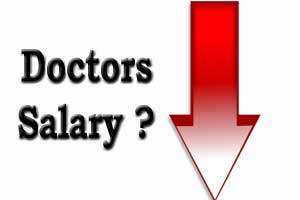 The trend showed towards falling placements and rising further studies for MD/MS graduates at PGI
Chandigarh: Placements seems to have a taken a backseat and the median salary of PG medical passouts has fallen, a recent report released by Postgraduate Institute of Medical Education and Research, Chandigarh (PGIMER; PGI Chandigarh) has suggested.
The report summarises the data that has been submitted by the prestigious medical institution to the Ministry of Human Resource Development for the overall rankings of institutions across the country- National Institutional Ranking Framework-2019. Last year,  the PGIMER was adjudged second-best medical institution in the country after the All-India Institute of Medical Sciences, New Delhi
The report compared trends for the past three years for various intake and placement parameters at the institute. There seemed to be a major dip in the Median Salary in placements for both 2 year and 3 year PG programmes.
For the two year PG programmes, the Median salary dipped from a package of Rs 571200 in years 2013-14, and 2015-16 to Rs 538800 in the year 2016-17.
For the three year PG programmes, the Median salary also dipped. while in 2013-14 the average package was Rs 10,80,000 which increased to a package of Rs 13,20,000 in years 2015-16, there was a major dip in the average salary package for the year 2016-17 with the median salary package falling to Rs 10,20,000
Having said that the report showed a steep rise in PG medical students going for higher studies and a fall in doctors opting for placements. The report showed that in the year 2015-16 out of 277 graduating students, only 22 selected for higher studies while whooping 227 going in for placements. However, the trend completely reversed in 2016-17 where out of 250 graduating PG medical students, only 97 went for placements and the remaining 153 selected for higher studies. This reverse in trend can explain the dip in the median salaries.
The official numbers also lack the reflection the private and self-placements done by graduates which is sometimes not revealed to the institution
The report summarised various other information about the institute
INTAKE TREND- For the 2 years, PG Course, female students dominated the batches, with 72 out of 93 being female students. For the 3 PG programmes, tables turned in favour of male students, with 562 out of 842 total enrolled students in 3 year PG programme being male.
The report revealed a rising trend in the expenditure made by PGI for the development of institute including manpower, building, new equipment, workshops etc
Two patents each were granted to the PGIMER in 2016 and 2017 while one was granted in 2015. The number of sponsored projects increased in 2017-18 to 259 against 235 in 2016-17. However, in 2015-16, there were 270 projects. The sponsorship amount also witnessed a rise
11 comment(s) on Dip in PG Medical Median Salary, Fall in Placements: What PGI Chandigarh Survey revealed