Disburse Rs 1 lakh to 10-yr-old rape victim who have birth, says SC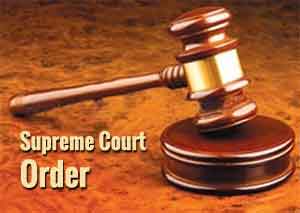 Chandigarh: The Supreme Court directed Chandigarh's legal service authority to immediately disburse a compensation of Rs one lakh to a 10-year-old rape victim who had recently delivered a child after being denied abortion by the top court.
A bench comprising Justices Madan B Lokur and Deepak Gupta said the identity of the minor victim as well as her family members should not be revealed and asked the authorities to look after her medical treatment expenses and education.
The court was hearing an application seeking Rs 10 lakh compensation for the victim, whose plea seeking permission to undergo termination of pregnancy was earlier turned down by the apex court following a medical report, under the victims compensation scheme.
The court posted the matter for hearing next week.
The top court was earlier informed by senior advocate Indira Jaising that the authorities in Chandigarh were insisting that the compensation would be granted to the minor only after a charge sheet was filed in the case.
Jaising had argued that law mandated compensation of Rs three lakh in such cases, but the apex court had passed a judgement on August 17 awarding Rs 10 lakh compensation to a rape victim whose plea for abortion was turned down.
The apex court had earlier sought responses from the Centre, Chandigarh administration, member secretary of the National Legal Services Authority (NALSA) and District Legal Services Authority of Chandigarh.
Section 3(2)(b) of the Medical Termination of Pregnancy (MTP) Act prohibits abortion of a foetus after 20 weeks of pregnancy.
The apex court had on July 28 dismissed the plea seeking its nod for terminating the 32-week-old pregnancy of the rape survivor after taking note of a medical report that abortion was neither good for the girl, nor for the foetus.
A PIL was filed after a Chandigarh district court on July 18 had refused to let the girl undergo the abortion.