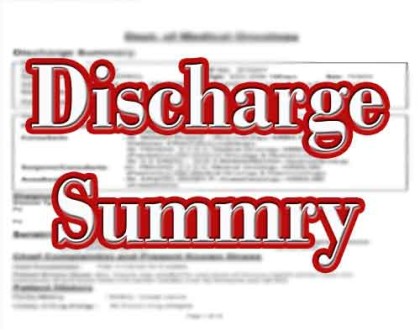 Query- I would like to know your opinion about the right practice if a patient got discharged at request or against medical advice.
 
1.Do we need to give Discharge summary or a simple reference letter will suffice?
 
2.If we give summary do we need to give discharge medication?
 
Please clarify.
 
Thank you very much.
 
Dr.Sudhakar MV
Orthopaedic Surgeon
 
Answer- Your liabilities are different in each case and are summarised as  follows
Patient absconding (Patient went away without informing) – Just note down in case file that patient has absconded and inform police in writing.
Patient want discharge against medical advice- patient has right to take discharge summary. Record in case sheet that patient / relatives want discharge against medical advice and take their signature.
Discharge on request as they want to take to other hospital- give discharge summary, arrange for ambulance and doctor if patient is critically ill.
Discharge on request- give discharge summary and discharge medication.
 
—
With warm regards,
Prof ( Dr ) R K Sharma
MBBS (AIIMS) , MD ( AIIMS), FIAMLE , FICFMT ,
Medico-Legal Consultant
President, Indian Association of Medico-Legal Experts , New Delhi
Former Head, Department of Forensic Medicine, All-India Institute of Medical Sciences, New Delhi
tel no 0091-9891098542
Supreme Medico-legal Protection Services Pvt Ltd
315 , Hemkunt Chambers
89, Nehru Place
New Delhi – 110019
Tel – 011- 41660642
Mobile – 9891098542 , 9971888542
E-mail: medicolegalhelpline@gmail.com
Website: http://www.smlps.in
0 comment(s) on Is the discharge summary right?