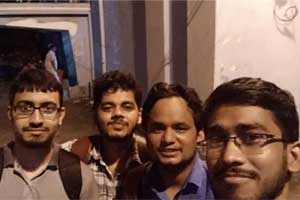 Kolkata: Doctors, who are considered as the healers of our society, don't consider the gender, religion, race or colour while treating a patient. However, sometimes the reverse is not true when patients tend to discriminate againt them.
In one such instance, four doctors, all alumni of Medical College and Hospital and working as house staffs in various hospitals in the city, were stressed to vacate the flat they were staying in for the last two months, allegedly because of their religion. The matter came to light recently after one of the doctors posted their ordeal on social media.
According to Dr Aftab Alam, Dr Mojtaba Hassan, Dr Nasir Shaikh and Dr Sawkat Shaikh, they found their current accommodation after several weeks of house-hunting, as many of the earlier tenants they approached, denied them space because of their religion.
Dr Alam, who is doing his house staff-ship from Beliaghata Infectious Diseases Hospital, stated that their landlord did not have any problem with them but, right from the beginning, some of their neighbours created a hostile situation.
"The situation worsened last Tuesday when one of our friends came from North Bengal for an interview and stayed the night with us. He was accosted by one of the neighbours who asked him for his identity card. He also misbehaved and heckled him," he informed News 18.
"When we raised an alarm, saying that we were ready to show all the necessary documents but to our landlord and not him, then he loudly declared that how he had warned everyone to not rent out their flats to 'bachelors and Muslims'," recounted Dr Alam.
"We were humiliated in front of other people in the locality and asked to shift to another place. I told them that they don't have any rights to behave like this with us just because of our religion," he added. The landlord, however, has taken a stand with his tenants. When TOI spoke to their landlord, he said, "A few of my neighbours spoke to me against my decision… Their sole objection was my tenants' religion." He added that evicting the youth because of their religion would set "a bad example".
Following the incident, Dr Alam posted his ordeal on social media, after which an NGO called Sangati Abijaan came to their rescue along with the local Durga Puja Committee members. Not only this, these doctors were supported by many of the Twitter users too.
The Idea Of India lives! Locals rush to the rescue to make sure Muslim doctors don't have to vacate their apartment. Hooray for Kolkata! @enewsroomindia https://t.co/ZW8237fHPU

— Sagarika Ghose (@sagarikaghose) August 3, 2018
Dear @WBPolice, could you please look into this issue wherein 4 Medical College and Hospital alumni are now counting their days at their Kudghat flat and have approached a volunteers' group to resist their eviction.
CC: @MamataOfficial, @CIDWestBengalhttps://t.co/Kcn6wN0tpd

— Bishnu (@Bishnu467) August 3, 2018
This is absolutely shameful. Kolkata's large heart seems to be shrinking. It is up to the people there to protest and ensure that the city gives no quarter to such prejudice and hate. I am a Delhiite and a Bengali. Kolkata, you have let us downhttps://t.co/yskueRGkwv

— Subhendu Mukherjee (@subhendujee) August 2, 2018
Thanks to Puja Committee and an NGO, Muslim doctors did not have to vacate their flat @enewsroomindia https://t.co/xcYQoq8jU1#Muslims #India #Hindu

— Mohammed Sirajuddeen (@mohammed_Frdous) August 3, 2018
Meanwhile, the neighbor, who had raised an objection, had never anticipated such a reaction and has now maintained that he had no objection to the four staying in the flat. The locals have pledged their support to the boys and have maintained that no tenant would be targeted simply because of the religion, reports Enewsroom.
Overjoyed with not having to vacate the flat, the doctors thanked all the supporters and said, "I am sure if such interventions are made in time to iron out the differences or prejudice that exists in the society, the rising graph of hate in India will be curbed for sure."
2 comment(s) on Discrimination: 4 Doctors told to vacate flats, allegedly because of their religion