DNB Courses: Transfer JULY 2019 seats to January 2020 Session, NBE tells Hospitals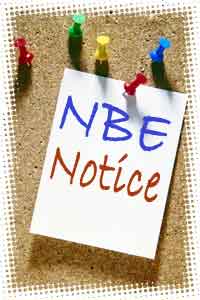 New Delhi: With the National Board of Examinations (NBE) scrapping one of the bi-annual exam for DNB Post MBBS courses, the examination body has now asked its accredited hospitals to transfer the seats remaining after the July admission session to January 2020 admission session.
The confirmation to this effect comes via an official notice uploaded on the official website of NBE which clearly states that in continuation of the NBE notice dated 25-04-2019 whereby it has been notified that the July admission session for DNB Broad Specialty courses has been done away with, the NBE accredited hospitals are hereby informed that the admissions to DNB Broad speciality (Post MBBS & Post Diploma) Courses against 2019 July admission session Broad Specialty seats shall be done in 2020 January admission session counselling.
The notice goes on to add,
Accordingly, all July admission session seats accredited with NBE for DNB Broad Specialty Courses for a particular year shall be carried forward to the January admission session counselling of the respective next year.
Medical Dialogues earlier reported about the scrapping of DNB CET for Post MBBS courses, only one session from 2019. The decision implied that there will no examination from this year for the July admission session for DNB Broad Specialty courses. Further NBE has clarified that admissions for the January session of DNB Broad speciality courses will be done on the basis of NEET PG examination only.
1. NBE has been maintaining two academic sessions for admission to DNB Broad Specialty (post MBBS) courses – January & July.
2. The admission for DNB Broad speciality courses for January admission session is carried out by utilizing the merit list of NEET-PG. NBE has been conducting a separate DNB CET in June / July every year for admission to July academic session.
3. It has been decided that from 2019 onwards, there shall only be a single admission session for DNB Broad Specialty courses i.e. January admission session. The allotment of DNB Broad Specialty Courses to candidates for January admission session shall be done through merit-based counselling utilizing the merit list of the corresponding NEET-PG.
4. The July admission session for DNB Broad Specialty courses has been done away with. Accordingly, NBE shall not be conducting DNB CET in June/July from 2019.
5. Candidates participating in counselling for admission to PG Medical courses for 2019 academic session are requested to make a note of the above.
Read Also: Major Change: NBE scraps DNB CET for Post MBBS courses, only one session from 2019
For more details click on the link given below:
http://natboard.edu.in/pdoof/pbnotice2019/Notice - July Admission Session Seats 2019 onwards - 26-04-2019.pdf?h88233erhx90wsd0q2wk2s2ks2weuigfu3g77844jh89de