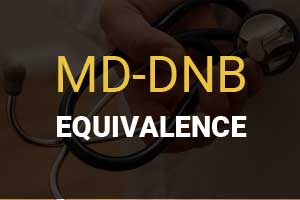 New Delhi: Bringing a sense of respite to the DNB candidates across the country, the Union Ministry of Health and Family Welfare has clarified that in the impending National Medical Commission, DNB qualifications of candidates who have done their course from 500 bedded hospitals will be considered equivalent to PG/SS qualifications in all respects.
Earlier, this was limited to only those DNB degrees, whereby candidate had passed from MCI recognised institutions , that is medical colleges.
The clarification came in response to the query raised by Association of National Board Accredited Institutions ( ANBAI), the umbrella body of Hospitals providing DNB courses across the country, whereby Under Secretary ( Health)  to the Govermentt of India cleared the air about the status of MD-DNB Equivalence within the ambit of the impending National Medical Commission Bill.
The reply sent to Dr Alexander Thomas by the Undersecretary Health, Shri Amit Biswas stated
I am directed to refer to your letter dated 29.03.2018 on the subject cited above and to say that the clause with regard to equivalence of DNB with other PG / SS qualifications under the National Medical Commission Bill, 2017 as introduced in the Lok Sabha has been amended after considering the recommendations of the Department – related Parliamentary Standing Committee on Health & Family Welfare made in its 109°' Report. In terms of the said Bill, the DNB degree shall be equivalent to other PG / SS qualifications in all respects including for the purpose of teaching.
The letter went on to clarify that as per the Amended clause in the NMC Bill, for those candidates who have completed their DNB from medical institutions attached with hospitals (aka medical colleges) as well as 500+bedded hospitals, their degree shall be considered equivalent to PG/SS qualifications in all respects . Others will have to do 1 year SRship
 The amended clause of the NMC Bill, 2017 prescribes that the DNB qualifications when granted in a medical institution with attached hospital or in hospital with at least 500 beds, shall be equivalent in all respect to the corresponding PG/SS qualification and in all other cases, senior residency in a medical college for an additional period of one year shall be required for such qualification to be equivalent.
Medical Dialogues had earlier reported that DNB candidates were extremely disappointed after the parliamentary committee on health which was deciding on the amendments of the National Medical Commission bill had stated that with the bill,DNB qualification which is awarded by NBE shall be equal in all respects to the post-graduate qualification and the super-specialty qualification, respectively, as granted under this Act with the exception in teaching in medical colleges as they do not take DNB education in a medical college
Read also: DNB equivalent to MD, but not in Teaching: Parliamentary panel on NMC Bill
Demanding equivalence for NBE qualifications, ANBAI held a meeting first with the PMO and then with the Health Ministry, asking then to establish equivalence.
Speaking to Medical Dialogues team, Dr Alexander Thomas, President ANBAI, whose letter finally led to the above health ministry clarification stated," The 2012 GOI gazette notification, specifies DNB equivalence to MD for all those candidates who have undergone DNB training in an institution which now runs MCI recognized postgraduate degree courses in a given subject as well as those who have undergone training in multi-specialty teaching hospital with at least 500 beds that meet certain criteria laid . For the remaining, the notification called for one additional year of senior residency or equivalent training or research job in an MCI recognized hospital/institution, for the purposes of equivalence."
"This notification was, however, overturned when in 2017, MCI took out another gazette notification that implied DNB equivalence for only those candidates who have undergone training in an institution which runs MCI recognized postgraduate degree courses." he explained
" We are happy that the government has decided to re-instate the equivalence in the upcoming National Medical Commission Bill," Dr Alex added
Read Also: ANBAI officials Meet Health Ministry: Nadda Assures MD-DNB equivalence
26 comment(s) on DNB will be Equivalent to MD in ALL Respects: Health Ministry Clarifies on NMC Bill