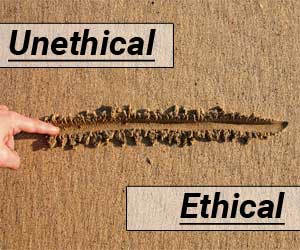 Ahmedabad: Responding to the rising practice of corporate hospitals advertising their top doctors by sharing their photographs and highlighting their skills, the Gujarat Medical Council (GMC) has now released an advisory for all- warning its registered doctors that to be cautious while advertising and limiting them from crossing the ethical boundaries. The state medical council reminded the doctors that violations of the same would bring action from the council including the removal of name from the state medical register
The state medical council recently issued an advisory to this effect, warning doctors about advertisements being a violation of medical ethics
It has come to the notice of Gujarat Medical Council recently, that in today's era öf competitive medical practice, corporate hospitals and private practitioners have been knowingly or unknowingly overstepping the Laxmanrekha of Ethical advertising. This results in violation of Code of Professional Conduct, Etiquette and Ethics 2002 under the IMC Act. Violation of this act is punishable and Gujarat Medical Council has legal obligation to take suitable actions against registered medical practitioners violating thé code of ethics.
The move comes in light of the rising cases where top hospitals are seen advertising with photos and profiles of their "star" doctors. The state medical council as a byline note also informed doctors about a recent decision by the Medical Council of India where 10 doctors associated with a hospital in Haryana were suspended for 15 days as their names with photographs appeared in advertisements
The council alsô hereby deems it appropriate and relevant to bring to the nõtice of  concerned registered medical practitioners about the judgment given by MCI on the appeäl filed by Shri Rameshkumar Khatri, wherein the MCI ordered to remove the names from IMR for 15 days of 10 Registered Medical Practitioners working in a multispeciality hospital in Sonepat, Haryana, as their names with photographs appeared in advertisements. The council interpreted such advertisements as an act of violation of code of ethics.
In such circumstances, the Gujarat Medical Council decided to issue an advisory to all its registered medical practitioners to exercise great caution while advertising and take abundant precaution not tó violate the code of ethics by unethical advertising.
In a conversation with DNA, Dr Nitin Vora, president, GMC confirmed that the first step taken in this regard is to issue a notice to the erred doctors and hospital. It can also lead to suspension.
The notice went on to add certain circumstances where doctors can advertise
Herewith are mentioned the situations and circumstances wherein a registered medical practitioner is allowed to advertise in an ethical manner (clause 6.1 of the code of ethics)
On starting practice
On change of type of practice
On changing address
On temporary absence from duty
On resumption of another practice
On succeeding to another practice
Public declaration of charges
The council also enunciated on the definitions of advertisement, endorsement, fee-splitting and commissioning for the information of doctors. These are as follows
ADVERTISEMENT
Soliciting of patients directly or indirectly, by a physician, by a group of physicians or by institutions or organizations is unethical
Not to invite attention to him or to his professional position, skill, qualification, achievements, attainments, specialities, appointments, associations, affiliations or honours and/or of such character as would ordinarily result in his self-aggrandizement
Printing of self-photography, or any such material of publicity in the letterhead or on signboard of the consulting room or any such clinical establishment shall be regarded as acts of self-advertisement and unethical conduct
ENDORSEMENT
A physician shall not give to any person, whether for compensation or otherwise, any approval, recommendation, endorsement, certificate, report or statement with respect of any drug, medicine, surgical, or therapeutic article, apparatus or appliance or any commercial product or article with respect of any property, quality or use there of or any  test.
FEE SPLITTING/COMMISSIONING
A physician shall not give, solicit, or receive nor shall he offer to give solicit or receive; any gift, gratuity, commission  or bonus in consideration of or return for the referring, recommending or procuring of any patient for medical, surgical or other treatment
A physician shall not directly or indirectly, participate in or be a party to act of division, transference, assignment, subordination, rebating, splitting or refunding of any fee for medical, surgical or other treatment
All registered medical practitioners are hereby advised to adhere strictly to the norms of advertisement as well as all other norms laid down in Code of Professional Conduct, Etiquette and Ethics 2002 and all further amendments made to it without fail. A breach in this code will invariably lead to suitable actions/punishment by the Gujarat Medical Council, added the release
23 comment(s) on DO NOT Cross LaxmanRekha of Ethical Advertising: Medical Council warns its Doctors