Doctor, 37, stripped naked and paraded around the city on rape allegations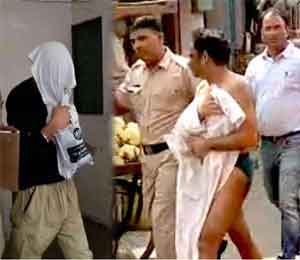 Haryana: A psychiatrist working at the Fatehabad district was recently stripped naked and paraded around naked in the area, after allegations of him molesting a reportedly a female patient came into light. The report in Dainik Bhaskar adds that the patient is reportedly mentally unstable.
The violent reaction came after a female patient alleged that one Dr Jimmy Jindal, molested her after giving sedatives during a consultation. The woman had informed her family members and relatives which resulted in a mob, reaching at the clinic of the said doctor and vandalising it to pieces. They then moved on to assaulting the doctor, blackening his face, stripping him naked and parading him around the streets. After the ruckus created on the streets, officials freed the doctor from the mob and took him under custody, reports
Dainik Bhaskar
.
Indian Express reports that some doctors from other private hospitals also reached the area to intervene, but refrained after seeing the mob and learning of the incident. On Saturday, some of them met SP Kuldeep Singh and demanded action against those who assaulted Jindal. At the same time, the victim also recorded her statement with the police, after which the police added the charge of rape against him.
The patient has been sent  for medical examination to determine rape while the doctor has been taken under custody.
Jagran
reports that the Indian Medical Association, State Branch has suspended the membership of the said doctor.