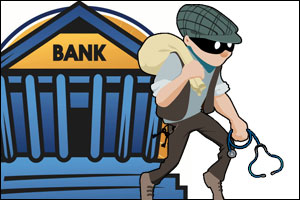 Dr Sanjeev Arya got five people from Malda and Jharkhand admitted to his hospital before the crime was committed. He even created their files with medical histories and prescribing pathology tests in order create a cover for them
Kanpur: A gang of robbers operating across Uttar Pradesh was busted with the arrest of 11 of its members, including a doctor and three of a family, who had burgled a Union Bank of India branch in Naubasta in Kanpur two weeks ago, police said today. It is reported that during the robbery, masked men looted cash and jewellery stored in 32 lockers of the bank
Inspector general, Kanpur zone, Alok Singh said 11 people, including the owner of a hospital, had been arrested and 80% of the stolen cash and jewellery recovered. The doctor identified as one Dr Sanjeev Arya, was arrested and gold ornaments weighing 21.940 grams were recovered from him.
"Dr Sanjeev Arya, owner of Sanjeevani Hospital in Kakdeo area of Kanpur, is among the arrested people. Not only did he finance the heist, he even gave burglars a cover before and after the crime," Singh informed HT.
According to the police, Dr Sanjeev Arya got five people from Malda and Jharkhand admitted to his hospital before the crime was committed. He even created their files with medical histories and prescribing pathology tests in order create a cover for them
"Dr Arya provided them funds and vehicles to buy gas and metal cutters and wrenches. After the burglary, the gang moved into the hospital where five members were admitted for two days. The booty was also divided in the hospital," Singh informed HT.
Diamond jewellery worth over Rs. 35 lakh, gold ornaments weighing 4.155 kg, 18 kg silver and over Rs. 4 lakh were recovered from them, Inspector General of Police (Kanpur range) Alok Singh said. Mithun Mandal and Pheku Barsad, both residents of Jharkhand, and Ram Kumar Sharma of West Bengal were arrested, the officer said.
Sharma was also involved in looting jewellery worth Rs. 2 crore from a showroom at Kanpur's PPN market in 2010, he said.Two members of the gang, Mamu and Krishn Ravidas, were still at large, the officer said, adding that raids were being conducted in their hideouts.

Senior Superintendent of Police Akhilesh Kumar said they got a lead after they found a gas cylinder carrying a slip containing the name and address of the mastermind, Bhanu Pratap Singh.Bhanu was also running an international car thief gang, adding that his wife Mannu Devi and son Akshay Pratap Singh, who are members of his gang, were arrested, the police officer said.
13 comment(s) on Shocking: Doctor, owner of hospital, arrested for Bank Robbery in Kanpur