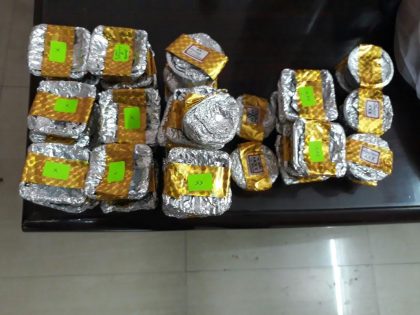 Hyderabad: An MBBS doctor has been arrested  Special Operations Team (SOT) Rachakonda, after he was found running a business of selling marijuana laced chocolates in the city. The said doctor had been running his venture through Social Media and was supplying the contraband product all over the country.
Moving Towards Greener Pasteurs
35 year old, Doctor Mohd. Sujath Ali Khan is an MBBS passout from Deccan Medical College of Hyderabad. Post completion of his MBBS in 2006, he joined the Neurology department of Nizam Institute of Medical Sciences. He left the job at the prestigious institute in 2014 to join a local gym  as a nutritionist. Not making enough money to sustain himself, the doctor came across a youtube video where he learnt how to bake cakes or chocolates with marijuana. With his previous medical knowledge as well as the newly gained one, he began the new venture
"After learning how to make such cakes and chocolates, he experimented on himself. After that, he created an Instagram account 'weedibles.hyderabad'. From here, he could connect with his customers and clients," SOT inspector K Narsing Rao told TOI.
Dr Sujith is reported to have had a strong following on Social media.  Siasat reported that he had 1,800 followers on Instagram with more than 3,000 customers across India out of whom he had hardly met any in person. He communicated with them only through messages and mails, police has informed. His chocolates were sold based on their potency. The said chocolates were branded as 'X', X, XX, XXX, 4X, 5X and 6X. Higher the X, higher the potency of the marijuana chocolate. The prices of the toffees is reported to have been ranged from anywhere between Rs 500 to Rs 1800.
"He would give his cell phone number to his prospective clients. After that, he would explain the effects of consuming these chocolates. After he received the payment, he would then send them to his customers, through courier," Rao added
The police had started tracking him in December last year and raided his residence in Bahadurpura on Saturday where he was making the chocolates. Around 45 marijuana (ganja) mixed chocolate cups, chocolate Packed Box-1, Silver Foil Roll-1, Sticker Bundles-4, Chocolate Coco box-5, Chocolate packets-2, Empty Cups-50,Ghee Packets-10 have been seized in the raid adds India Today
2 comment(s) on Doctor arrested in Hyderabad for Selling Marijuana Chocolates