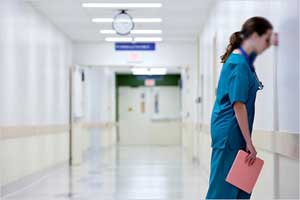 China: A medical practitioner in China is reported to have suffered a stroke and died after going through a gruelling shift of 18 hours straight. The doctor simply collapsed in front of the patient and despite resuscitation efforts that lasted around 20 hours could not be saved.
Metro.co.uk reports that Zhao Bianxiang, 43 years, who was deputy head of respiratory medicine at the Yuci District People's Hospital in Jinzhong City in China, died from a subarachnoid hemorrhage, which is caused by the rupturing of an aneurysm in the brain.
She was with a patient, inquiring about the patient's wellbeing from attendant when the incident happened, around 12 pm.  Her final words were  'how is your mum?' to the patient's daughter before she instantly collapsed right in front of them.
It was not immediately clear what caused the stroke but colleagues described her as a "workaholic" who put her job before her personal life. Her shift started at 6pm the night before and she had not stopped for a break, her colleagues told the Shanxi Evening News.  She had confessed to her colleagues that she was 'too busy' to take a break, reports the local daily in China.
6 comment(s) on Doctor collapses and dies in front of patient after working 18-hour shift