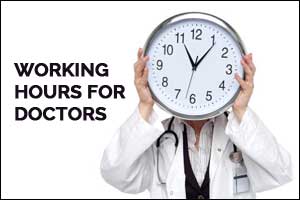 New Delhi: Doctors at Central Government Hospitals work for maximum 40 hours in a week, Minister of State for Health and Family Welfare recent informed the parliament. The minister was responding to a question raised by Member of Parliament (LS), Shri Sukhbir Singh Jaunapuria, on the regulation of working hours for doctors and paramedics.
The MP asked whether the Government has laid down norms to regulate the duty hours of doctors and medical professionals in all the hospitals, to which the minister replied that Public health and hospital' being State subject, it is the primary responsibility of the respective State Government/Union Territory (UT) to prescribe norms for fixing working hours for the doctors and other medical practitioners working in their hospitals. As such, no information in this regard is maintained centrally, the minister informed.
However speaking for central government hospitals, the minister informed that doctors and allied medical professionals at Central government hospitals in New Delhi including Dr Ram Manohar Lohia, Safdarjung, Lady Hardinge Medical College & Associated Hospitals work for maximum 40 hours per week
As far as three Central Government Hospitals namely, Dr Ram Manohar Lohia, Safdarjung, Lady Hardinge Medical College & Associated Hospitals, New Delhi are concerned, the working hours for doctors and other medical practitioners normally do not exceed 40 hours in a week. However, the duty timing and working hours of doctors and Medical Professionals are governed by exigencies of their work and depend on whether they are on emergency duty.
Another question that was asked from the minister was whether the extended working hours of doctors and medical staff has led to negligence of their duties and deteriorated the quality of healthcare services in the hospitals. To this, the minister replied
 There has been no reported case of negligence of duty or deterioration of the quality of healthcare services on account of extended working hours in these Central Govt. hospitals. As regards standards of treatment, adequate residents/doctors are available in these Central government hospitals to provide optimum patient care. Further, whenever there is the increase in workload necessitating the increase in the number of doctors, new posts are created to ensure that required manpower is available to deliver the desired level of clinical care and to ensure that there is no medical negligence.
Doctors Disagree
The minister's statement has indeed brought negative responses from doctors, particularly from resident doctors who pointed out doctors actually work much much more than 40 hours, even going up to 100 hours in a week
"A resident doctor is available round the clock -for all practical purposes- duty hours are not defined for residents. At most places, resident doctors are at least doing 70 hours of duty in a week, and going upto even 100 and 120 hours a week, in peak and high workload times. The work times also vary according to various departments, with doctors in anaesthesia, surgery and emergency departments having much hectic duty hours than others.  The result becomes very clear. Tired, overworked doctors, who due to lack of sleep and rest have begun to resemble zombies. Patients are also suffering due to this, with rising instances of medical negligence and lack of quality care that doctors would have provided, if they weren't so overworked." a resident doctor working at RML Hospital informed Medical Dialogues.
"Normal working hours of hospital are from 9am to 4pm from Monday to Friday and on Saturday it's 9am to 1pm it's total 44 hrs week. Including emergency one per week it's min 16 hrs if we count all these resident doctors are working more than 60 hrs of week. All these with maximum infrastructure of hospital. But our government hospital are lacking in infrastructure and man power  also. Resident doctors Duties are not regulated in our country. Working hours of resident doctors in other states are Matter of concern and govt should look into it."  Dr Sumedh, President FORDA informed Medical Dialogues.
19 comment(s) on Doctors at Central Government Hospitals work Maximum 40 hours per week: Health Minister tells Lok Sabha