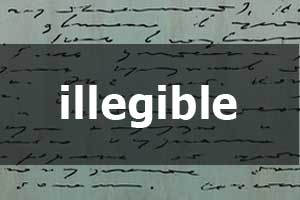 Lucknow: Court proceedings in a medico-legal case, came to a standstill here, after the members of the court could not understand the handwriting of a medical practitioner on a medico-legal report. Angry at the illegible document, the high court then directed the agencies to endure that medico-legal reports are submitted in computerized or typed copy format.
TOI reports that the bench of Justice Ajay Lamba and Justice Dinesh Kumar ordered the state government that it  should ensure that if a case has been prepared for medico legal reasons, post mortem, forensic or injury, it should make sure that while filing the chargesheet, the copyrights or typed copies verified by the head or typewriter of the concerned hospital along with the original copy should also be submitted.
The directions came in response to a medico-legal case, where the court could not understand what the doctor had written on the medico legal report. It is reported that during the proceedings neither the judges, nor the lawyers, nor the government representatives could make sense of the poor handwriting. The doctor was also summoned by the court, who replied before the court that he did not have a computer and hence computerized copy could not be created.
TOI reports that the high court then observed that  medical reports play an important role in any case. It helps in finding out the truth. But many times the report is not read. This report should be in a language and writing that can be read by lawyer and judge.
Observing that computerized copy of medico legal while filing a charge-sheet must be submitted, the court also pulled up the Director General of Medical and health services in the state,  demanding complete implementation of November 8, 2016 circular in this regard and provision of necessary facilities for the same within a time limit. The court also instructed that such medico-legal reports must be in simple language and handwriting that even the judges and the lawyers can understand.
Read Also: MCI gazette Notification asks for Legible Prescriptions
0 comment(s) on Doctor's Bad handwriting Confuses High Court, brings proceedings to halt