Doctors, nurses assaulted by attendants of patient in Jammu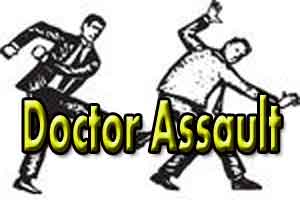 Jammu:  Doctors and nurses of a government hospital here were allegedly assaulted by some attendants of a patient after his death, officials said today.
Butta Singh (58), a critically ill patient suffering from bilateral extensive disease and respiratory failure, died at the hospital last evening following which some of his attendants allegedly assaulted a doctor and some nurses besides smashing a window screen and damaging the hospital property, they said.
The doctors and paramedical staff, including nurses, staged a peaceful demonstration here this morning against the hospital administration for its failure to provide secure atmosphere to them.
A police official said an FIR was registered in connection with the incident but no one was arrested so far.
The protesters, however, resumed their duties after the hospital administration and senior police officials visited them and assured that a case already stands registered and appropriate measures would be taken to avoid such incidents in future.