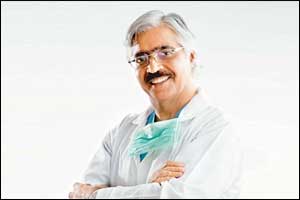 New Delhi: One of the top Cardiologists in the country has found himself mired in controversy, after media reports alleging conflict of interest, in him being a shareholder of a medical device company came into light.
Media Reports based on the recently released Paradise Papers (including the electronic documents relating to offshore investment 714 Indian individuals and companies) alleged that Dr Seth promoted stents of Biosensors International to his patients despite being a shareholder of the company. Business Standard reports that Dr Seth had bought shares in Biosensors International which he had sold before the company listed in the Singapore bourses.
Refuting the media allegations Dr Seth as come forward stating that he did not use Biosensors' devices when he was a shareholder in the company.  
Fortis Healthcare also confirmed that Dr Seth did not promote the device in question. "Dr Ashok Seth is an eminent cardiologist and a valuable member of Fortis organisation. We believe that he has always acted in the best interest of the patients and has practised in accordance with the law and commonly accepted medical guidelines. We do not see a conflict of interest or lack of ethics as he neither promoted the stents nor influenced any decision process regarding purchase of such stents," stated the email statement by Fortis.
The medical community has indeed come forward in support of the doctor, stating it is not a crime on the part of any doctor to hold shares of a medical/pharma company. If this is the scenario, it would have far reaching effects on the medical profession.
" Being a mere shareholder does not imply having a say in the management and day to day affairs of the company. If owning shares of a medical company would mean a conflict of interest, then it would imply that no one in the medical profession can hold pharmaceutical/medical device shares, if they are prescribing the drugs of the same company." Dr Prem Aggarwal, President, National Medical Forum told Medical Dialogues
Business Standard Reports that Indian Medical Association has also come out in support of the cardiologist. Dr K K Agarwal, IMA President, speaking to BS said that the rules allow doctors to be part of any company. However, the doctor should not lose his sense of professional judgement, he added.
Medical Dialogues team questioned Dr Girish Tyagi, Registrar, Delhi Medical Council whether owning shares of pharma/device company would lead to a violation of Medical Ethics. Dr Tyagi quoted the Code of Medical Ethics, 2002 which state, " There is no mention in the Code of Medical Ethics, stopping a doctor from buying shares of a company. Section 6.3 of the code states A physician should not run an open shop for sale of medicine for dispensing prescriptions prescribed by doctors other than himself or for sale of medical or surgical appliances. It is not unethical for a physician to prescribe or supply drugs, remedies or appliances as long as there is no exploitation of the patient."
4 comment(s) on Doctors rebuff charges against Cardiologist Dr Ashok Seth