Doctors sent to help patients suffering from Japanese Encephalitis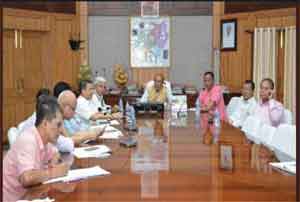 Imphal: A strong medical team led by 30 doctors have started off to help people suffering from Japanese Encephalitis and dengue in interior parts of Churachandpur district.
There are no proper roads hence it was difficult to reach the villages.
The matter was discussed in the State Assembly yesterday and Congress MLAs had demanded airlifting of the affected people.
CM, Mr Biren convened an emergency meeting last night to discuss the matter.
About 59 cases have been tested positive for Dengue, and 73 cases have been detected positive for Japanese Encephalitis (JE).
During the meeting, it was informed that though the situation is not alarming but the positive cases are showing an increasing trend.
Mr Biren said the situation is alarming and it needs to be attended to immediately.
The government has directed the medical team be kept at Youth the Hostel .
Maniur Police will also help in accommodating the medical team.
Mr Biren said he instructed the district officials to arrange transport facilities to move the patients to district headquarter or the state capital for medical treatment.
Mr Biren also instructed release of all necessary funds to help the people.
The Finance Department was asked to release Rs 10 cr by Monday.
To prevent spread of the disease fever detection centres will be established in the border areas specially at Moreh, Behiang and Jiribam.
Mr Biren said two doctors, who did not report for duty at PHC, Senvon and PHC, Henglep have also been suspended with immediate effect.