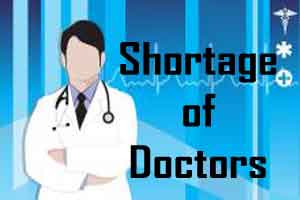 Lucknow:  There is less than one doctor for every thousand persons in Uttar Pradesh which is below the standards prescribed by the World Health Organisation (WHO), the state Assembly was informed.
The state's health minister Siddharth Nath Singh said that for every thousand persons in the state there are just 0.63 government and private medical practitioners.
At present there is not even a single doctor per 1,000 persons in Uttar Pradesh, which is the standard recommended by the WHO, Singh said.
Apart from this, for every 1,000 persons there are only 1.5 hospital beds in the state, he said while intervening in a discussion on the annual state budget 2017-18.
He said that as an immediate measure to tide over the shortage of doctors, the government had raised their retirement age from 60 to 62.
He said that he had also obtained cabinet approval for a proposal to conduct walk-in interviews for quick appointment of 1,000 doctors.
Singh said the government would soon introduce tele- medicine.
He also said out that the infant mortality rate in Uttar Pradesh was 78 per 1,000, which was higher than the national average of 50.
The maternal mortality rate in the state was 285 per one lakh as against the national average of 178, he said.
Besides, 46.3 per cent of children under the age of five suffer from stunted growth in Uttar Pradesh against an all- India figure of 38.4 per cent, he said.
Referring to the salient features of the maiden budget presented by the Yogi Adityanath government, he said BJP's political rivals were questioning as to how the Rs 36,000 crore farm loan waiver would be accomplished as the laudable step was not palatable to them.
Rather, they should introspect as to how such a massive amount accumulated as outstanding loans, he said.
0 comment(s) on Doctors Shortage: Not even one doctor per thousand in UP